Overview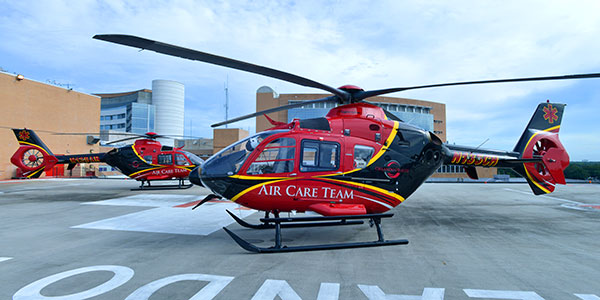 Emergencies can happen at anytime, anywhere. Orlando Health facilities are equipped and staffed to handle any major or minor emergency situation. Our team of healthcare professionals specializes in emergency care and stand ready 24 hours a day, 7 days a week.
At Orlando Health, you can count on full-service emergency care, expert physicians and staff, advanced medical technologies, and the confidence of knowing you're in capable, compassionate hands.
Learn more about our:
Level One Trauma Center
Orlando Health is proud to offer the region's only Level One Trauma Center as a commitment to serve our community knowing that seconds can mean the difference between life and death in the event of a traumatic injury. Our technology and advanced medical treatments and procedures, along with our expert staff, have distinguished Orlando Health's Level One Trauma Center at Orlando Regional Medical Center as a healthcare leader for adults and pediatric patients. Learn more about our Level One Trauma Center.
Emergency Surgical Services
Orlando Health offers emergency surgery services 24 hours a day, 7 days a week. Our Emergency Department has board-certified surgeons and surgical teams that are ready for immediate, critical, surgical treatment. Our in-house capabilities allow us to provide quality care that enables our patients to recover and return to their community.
Radiology Services
Orlando Health offers an array of radiology and imaging services, including mammography, 256-Slice CT Scan, MRI, Ultrasound, X-ray, and MRA. The goal of having radiology services located within close proximity to the Emergency Department is to provide quick, final readings to all emergency room patients and all inpatients requiring emergent/urgent radiological services.