Margo Shoup, MD
Vice President, Orlando Health; President, Orlando Health Cancer Institute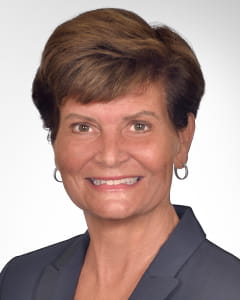 In her leadership roles with Orlando Health Cancer Institute and Orlando Health, Dr. Margo Shoup oversees oncology services and leads the strategic efforts for growth, excellence and coordination of cancer care for the health system.
For nearly two decades, Margo has been a clinician and executive leader at some of the nation's most prominent cancer institutions. Margo served as senior vice president of Nuvance Health in Connecticut and New York, and as the chair of the cancer institute. Previously, she was the director of the cancer service line for the west region of Northwestern Medicine in Chicago, where she also was the leader of Northwestern Regional Medical Group specialty practices and professor of surgery.
Margo earned her medical degree from Northwestern University, Feinberg School of Medicine in Chicago. She completed a general surgery residency and research fellowship at Loyola University (Illinois) and a surgical oncology fellowship at Memorial Sloan-Kettering Cancer Center in New York. She earned an MBA at the University of Massachusetts in Amherst.
She has more than 200 peer-reviewed publications and presentations and was principal investigator on several nationally funded and investigator-initiated research trials. Margo has served as the community surgeon representative on the executive council for the Society of Surgical Oncology, the president of the Central Surgical Association, the Midwest Surgical Association and the Chicago Surgical Society. She currently serves as president of the Western Surgical Association.
Before earning her medical degrees, Margo was a nationally ranked pairs figure skater who represented the U.S. National Figure Skating Association at the 1984 Olympic trials.