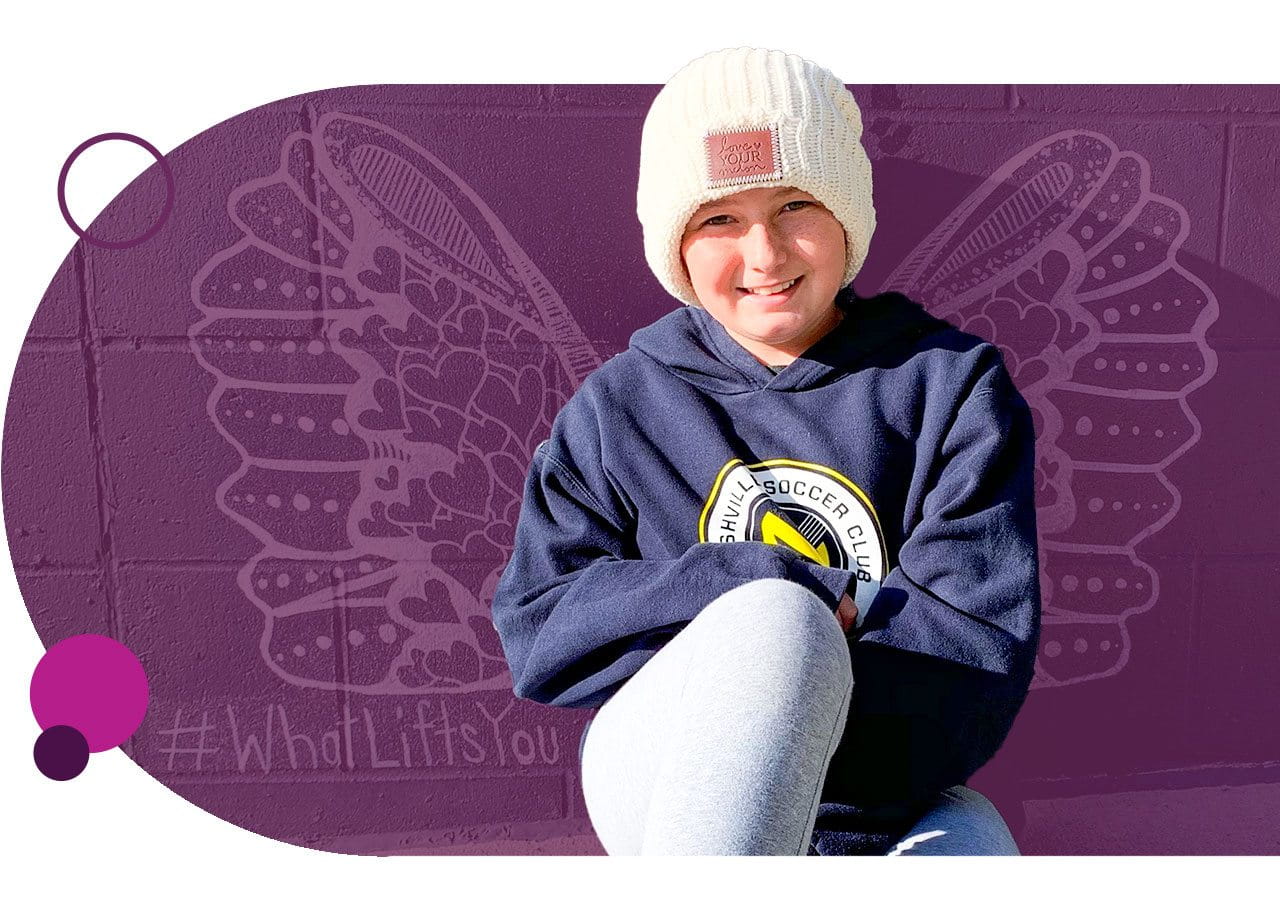 Ryan's Testimonial
Ryan loves art, baking, family vacations and soccer. Every weekend since she was a toddler, she had played her favorite sport. So, when Ryan began experiencing lower back pain at age 9, her parents worried soccer was the cause. Then the pain became so severe that she struggled to play at all, and they knew it was more serious.
It would take six months to figure out what was wrong.
Ultimately, Ryan and her parents ended up at Orlando Health Arnold Palmer Hospital for Children. An MRI of Ryan's lower back led to a diagnosis of Ewing sarcoma, a type of cancerous tumor that affects soft tissue or bones. In Ryan's case, the tumor was near the base of her spine where many nerves exit the spinal cord.
"Given the fact that we had Arnold Palmer in our backyard, it was recommended that we go and do treatment locally. I think for us, having to manage our household here and our son, it just seemed a good fit for us to be able to take Ryan there," says Ryan's father, Chris.
Chemotherapy to shrink the tumor before surgery is typically part of the treatment for Ewing sarcoma patients. And that was the initial plan for Ryan, too.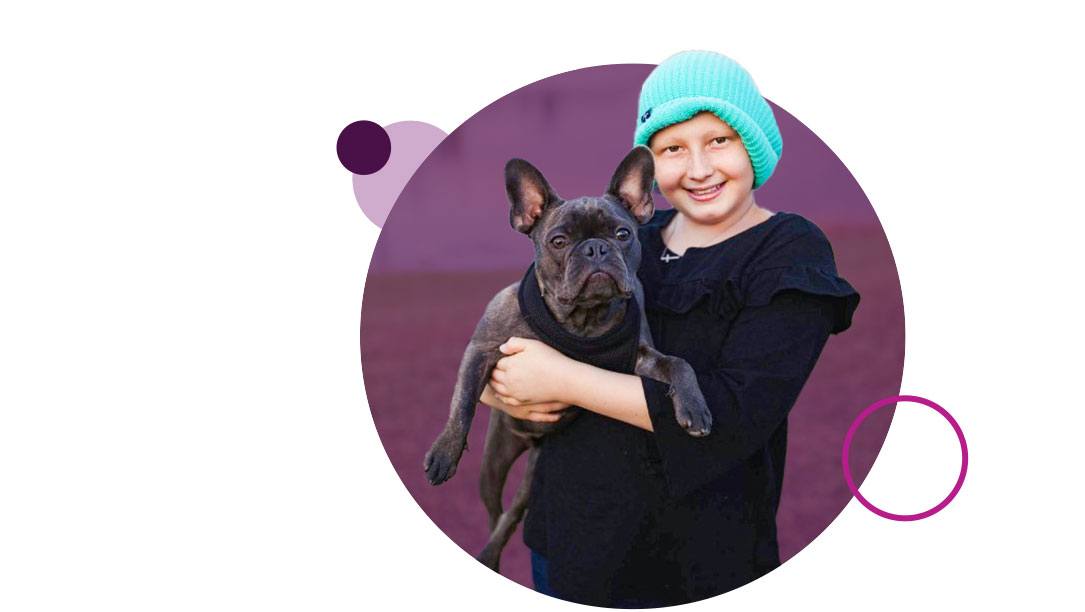 Targeting a Tumor
Ryan's chemotherapy was successful, and Orlando Health Arnold Palmer team members made her hospital stays feel as much like home as possible. Her mother brought in homemade dinners; unicorn decor was hung; and the family's dog, Huckleberry, a French Bulldog/Boston Terrier mix, stopped by after Ryan's treatments.
Throughout her MRIs, PET and CT scans, and chemotherapy, Ryan remained upbeat, even as her long, curly hair fell out.
"A lot of the moments were good. My friends would come and visit," Ryan says. "My coach came and visited. But I remember one time when I was doing Just Dance in the playroom, and it was so funny — and really fun, too." It was a nice, if brief, distraction. Yet, Ryan and her family still had a long road ahead of them.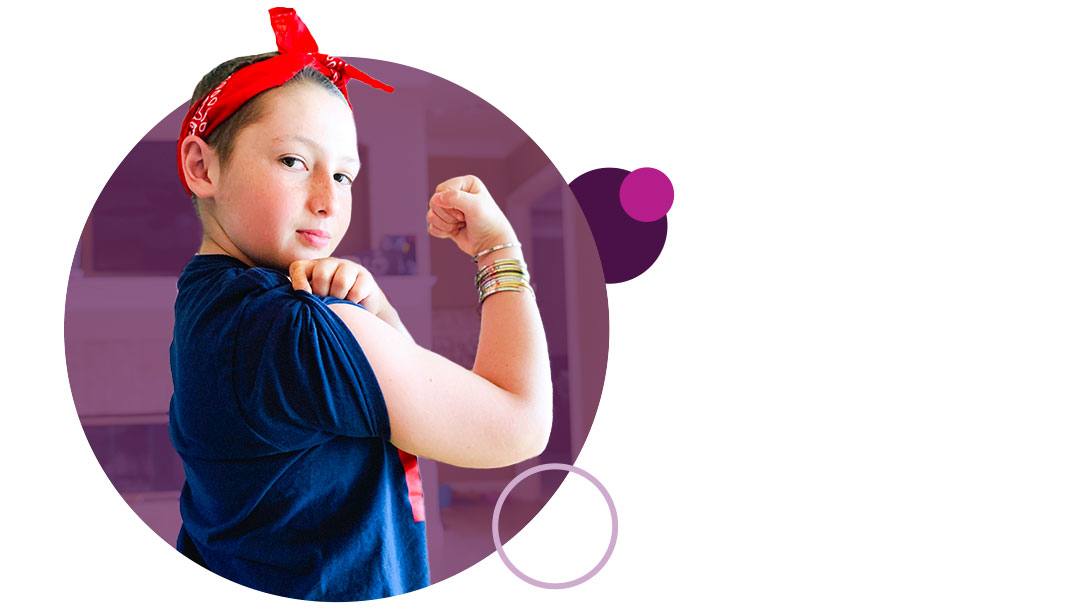 A Change in Plans
Days before Ryan's scheduled surgery, her team of physicians decided it was too risky to proceed with their original plan. The many nerves exiting the spinal cord made surgery complex, says Dr. Naren Ramakrishna, a board-certified radiation oncologist at Orlando Health Cancer Institute.
Instead of surgery, the team turned to proton therapy, a type of radiation treatment that uses protons rather than X-rays to treat cancer. They can be manipulated to release most of their energy within a tumor with little harm to the surrounding healthy tissue. The result is a more precise radiation treatment with fewer side effects.
"I had to ask myself what type of treatment would provide the best long-term outlook for Ryan. Proton therapy was a great option because of its targeted nature," says Dr. Ramakrishna, who treated Ryan.
He and his team used X-ray image guidance to focus the radiation dose within 1 centimeter of Ryan's tumor, protecting the surrounding areas. Keeping the radiation as contained as possible is especially important with pediatric cancer treatment, Dr. Ramakrishna says, because developing bones and organs are particularly sensitive to radiation.
"For us, it was kind of eye-opening, and obviously, a little scary because we just didn't know if it would be effective, or side effects and that type of thing," says her father, Chris. "We were putting our trust in their hands, and obviously, Ryan's life in their hands."
A Sunny Outlook
For the proton therapy – 31 treatments over six weeks that each lasted 35 to 45 minutes – Ryan was able to stay in school.
"We would basically pick her up from the elementary school, and her appointment would follow," her dad says. "We might have to shoot over to Arnold Palmer after radiation, and she'd do a blood transfusion or two, or maybe even some platelets."
Scans at the end of Ryan's proton therapy treatment showed exactly what her family and physicians had hoped: no tumor.
"We are really looking at an ideal outcome at this point. Ryan's cancer has been in remission for greater than two years, which is a remarkable milestone," Dr. Ramakrishna says.
Soccer still plays a big role in Ryan's life. When she's not in middle school, the 12-year-old heads to soccer practice, where she toggles between playing as a midfielder or striker. And she still loves the Orlando City and Orlando Pride soccer teams.
"I'm doing really good now," Ryan says. "I can do basically whatever I want. It's going pretty good now."
The experience has left a lasting mark on Ryan's life.
"I really want to be an oncologist when I grow up to help other kids who are going through the same experience that I did," she says. "I would probably say that what I took away from this is just to live life to the fullest. Just do what you can in the moment."