By Orlando Health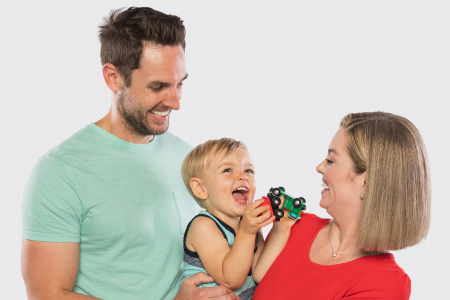 In just a single moment, everything can change. For Marissa and Johan, that moment came when a casual Sunday afternoon in March 2018 turned into a day they will never forget. And while their story begins with one of their darkest days imaginable, it became one of hope, caring and peace.
Until that point, it had been a typical weekend day. The couple was catching up on work around their Dr. Phillips home and taking turns looking after their only child, 9-month-old Kaden. He had just started crawling and was busy exploring.
"He was just starting to get the hang of it," remembers Marissa.
She was in one part of the house and Johan in another. Each thought Kaden was with the other parent. Instead, somehow, he scooted away from both, eventually finding his way out a door and into the swimming pool. How Kaden got the door open, they don't know, but suspect one of their two dogs had managed to unlatch it. How he ended up in the pool and for how long, they don't know either. It wasn't until Johan walked outside to get something and was headed back in that, out of the corner of his eye, he noticed something in the pool. It was Kaden floating facedown two feet below the pool's surface.
"At that moment, my whole life stood still," Johan says. He remembers feeling like he had weights on his legs as he ran to pull Kaden out.
He was blue. He wasn't breathing. He had no pulse.
"In our heads, in that moment," recalls Marissa, "it was over."
Frantically, they called 911 and began CPR. After first responders arrived and continued working on Kaden, their first glimmer of hope came with the words, "We have a pulse." And when they were told Kaden was being taken to Orlando Health Arnold Palmer Hospital for Children, they knew "we were going somewhere designed to help him."
Each year, the Bert Martin's Champions for Children Emergency Department & Trauma Center at Orlando Health Arnold Palmer sees 80–100 submersion cases, and about 6 percent of those children do not survive. Nationally, drowning is the leading cause of unintentional death in children ages 1–4, according to the Centers for Disease Control and Prevention (CDC). For every drowning death, it's estimated that five children receive ER care for submersion injuries
At the hospital, every minute felt like an eternity as the couple waited while the ER trauma team took over. But they knew the focus needed to be on Kaden. Kaden's condition was critical, and the outcome still unsure, but after a few hours, Marissa and Johan were able to be with him. When they started talking to him, his toes wiggled, bringing another moment of hope. But the story was far from over, as it was decided that Kaden needed to be put in a medically induced coma.
"It was important to keep Kaden sedated to take some of the load off his heart and lungs," explains Dr. Lawrence Spack, the pediatric critical care physician with Orlando Health Arnold Palmer who helped care for Kaden. "As long as we make sure we're delivering oxygen and blood flow, these organs have the ability to repair themselves and recover."
"But the brain, as unique as it is, does not have that ability to recover from such a traumatic event," says Dr. Spack. "So, there was particular concern about his brain."
It's just so very obvious how much they care, and how much they cared not only about Kaden, but about our well-being as well.

– Marissa, Mother of Kaden
Kaden spent a total of 10 days at Orlando Health Arnold Palmer — seven of those days were in ICU; six in an induced coma. Marissa remembers how the head nurse would spend time with her each day, teaching her about medications and the machines — what button meant what, what numbers they were looking for.
"I think she knew that was my comfort language," Marissa says. "For me that was huge, because I felt like I was part of his team and helping him. Even simple things like changing a diaper — they let me do every diaper change — meant that I could still care for my baby."
"You think, going to a children's hospital, it's not about you at all, it's about healing your child," continues Marissa. "So, it's pretty incredible that the entire team there was so compassionate, with the way they treated us and talked with us. We knew they were there not just for Kaden, but for us, too. And they almost knew what we needed without us even having to explain it to them."
Sometimes that meant keeping Marissa and Johan in the loop about everything that was happening with Kaden's care. But sometimes it meant telling them that they needed to lie down and rest. Or to go outside and feel the sun. Or even to go take a shower.
It was after that sixth day, when Kaden woke up and an MRI showed normal brain activity, that that Marissa and Johan could finally breathe and say out loud, "Our son is going to be okay." It was also when they came to a decision.
"We sat up all night talking about it," Marissa remembers. "We said, 'We made it through this. What now?'"
And they both realized, "Our purpose now is to share Kaden's story, because his story is so huge in so many ways — the team that was there to help us, the people we met throughout the way. From our time and our experience, we have such an amazing story of hope and caring to tell."
She adds, "When we see that Orlando Health Arnold Palmer building now, for us, it's a huge part of Kaden's story — a huge part of our story. Every single day, we were given some little glimpse of hope. And, for us, we just felt this overwhelming peace being there. Through it all, it was never a dark place."
"Looking back now," Johan says, "it's just so very obvious how much they care, and how much they cared not only about Kaden, but about our well-being as well."
When Kaden went into the hospital, he was a very active child: crawling, pulling up, standing. But after lying in a hospital bed for 10 days, he had to relearn it all. He did it in four days, and since then, has continued to hit all his developmental milestones. He continues to follow up with his doctors every few months, but there are no limitations on what Kaden can accomplish.
"Kaden's fantastic. He's our miracle," beams Marissa. "If you would have told me that first day that we would be here today, I don't know if I could even imagine it. Kaden has such a little fighter and determined personality, and I think that played a lot into his healing and why he continues to excel. Meeting him today, you wouldn't even know that he had this piece of his story happen."
"The joy of having Kaden back, and knowing we all get a second chance, is just overwhelming," adds Johan. "Kaden's going to grow up with so much potential, so much love. The world is his for the taking."