View All Articles
Get to Know Our Team: Rick Smith
As the Chief Operating Officer of Orlando Health - Health Central Hospital, Rick Smith works diligently and passionately every day to make sure patients get the best care. In his 34 year career, Rick has steadily taken on more leadership roles, transitioning from being an X-ray technologist to leading a team that works with hundreds of patients at Health Central, a 200-bed community hospital. Here, Rick shares why he thinks Health Central is such a great place to work, and why it's a remarkable place for patients, too.
Tell us about your background:
I grew up in a mobile home, with a good family life. I was a typical teenager at the time, growing up in the panhandle of Florida. I started out in Boy Scouts in junior high school and was drawn to first aid, emergency preparedness and learning lifesaving skills. That really was my passion very early on. Aside from that, it was sports and other activities that most teenagers participate in, but I really had an affinity for scouting and eventually attained the Eagle Scout rank, the highest rank in scouting.
It was during this time that my grandmother came to live with my family. I had just an absolutely amazing grandmother. She was basically my source of strength and my best friend, but she wasn't well. All I wanted to do at that time, based on my scouting skills of first aid and lifesaving, was to make her better and, unfortunately, I couldn't. My love for my grandmother, my desire to help her and to make her better drove me to a career in healthcare. She was obviously very, very special to me.
How did you pursue this passion?
I knew from very humble beginnings that my only way to college was through the ROTC program, so I advanced through ROTC for five years through junior high school and high school and received a scholarship to college. It was there that in my second year I was kind of thrown a curveball. I was told that the Army really didn't need healthcare workers, they needed engineers. And, as a cocky little 18 year old, I really didn't want to be an engineer. I had my mind and heart set on healthcare, so I was able to exit the Army with an honorable discharge and my commission as other candidates would, which at that point was the greatest thing that had happened to me.

After this, I immediately went into a radiology program. From that point, my career just really took off. I worked for many years as an X-ray technologist, became a supervisor and then department manager and eventually the department director for radiology. Over the last three decades, my career has just continued to expand with the mentorship of several people, from Radiology to Executive Director of Behavioral Health to VP roles and now to my current role as Chief Operating Officer here at Orlando Health – Health Central Hospital. All along the way, it was just that caring and compassion that my grandmother taught me that actually helped me become who I am.
Why did you decide to work at Health Central Hospital?
The thing that drew me here when I had the opportunity to join Orlando Health and Health Central was, after interviewing at several other places, this felt like family.
It's 200 beds, sort of that medium-sized community hospital. It's still large enough to have good technology and great services, but small enough that you can basically learn everyone's name. It's just that feeling of family that everybody really enjoys here. I've worked in places much larger and some smaller throughout my career, but this one really has a very unique feel and it's palpable when you walk down the hallway.
We noticed that pretty much everyone greets each other. They know if you're a new face and they reach out to you.
That's certainly what we try to relate to everyone — the whole ten-five rule. Ten feet away you're making eye contact and 5 feet away you're saying, "Hello." We really take that to heart. Sometimes our President, Mark Marsh, and I have trouble walking from one place to another because we're stopped constantly. But that's the fun part of our job.
What makes the care Health Central Hospital provides so special?
This is the kind of place where I would want my grandmother to be taken care of. It's because of our people. It is not the bricks and mortar that make the difference; our people are the ones who truly make a difference here. We want to deliver services close to home, and that's what Orlando Health does very well. It's because of the care and caring that we deliver every day that really makes a difference. But it's not just about a single person; it's about the team that I have the opportunity to work with every day.
There's nothing that we can't accomplish here at Health Central Hospital. Everything is possible with Orlando Health, since we have the system back-up from them. It makes our job here at the community hospital level so much easier. The services that we provide, and knowing that we have the technology and advanced services to back us up only 12 miles away (at Orlando Health), really makes a difference for our patients here.
Do you have any advice for someone starting out in their career who wants to end up in a leadership position like you did?
Follow your heart. It's not always about a paycheck. It's about doing what feels right, and doing the right thing. If you do the right thing, the right things happen. I learned that a long time ago from another CEO that I worked with very early in my career.
When I got into healthcare and was an X-ray technologist, it just felt right. I love taking care of patients. Then, as I matured a bit as a healthcare provider, I felt like I'd really like to lead this team and try to make a difference. Through some luck, being in the right place at the right time and having some great mentors, I was able to do that. So if I can do it, anybody can do it.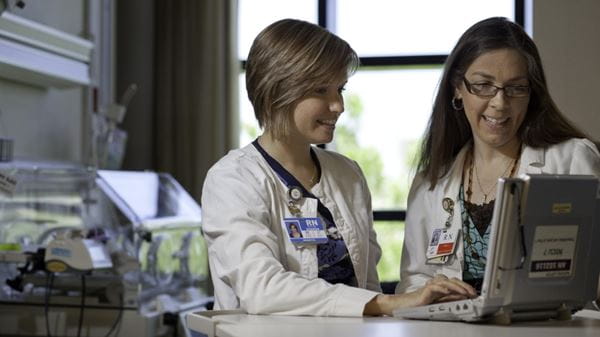 Are you interested in a career at Orlando Health?
Serving 1.8 million Central Florida residents, Orlando Health is one of Central Florida's largest employers. This is where you can find a career with a family of caregivers – each focused on helping our patients. No matter your role, you'll play a part in providing patient-focused care in a supportive, encouraging environment.

Learn More Here