Family Holds onto Hope After Baby's Heart Scare
By Orlando Health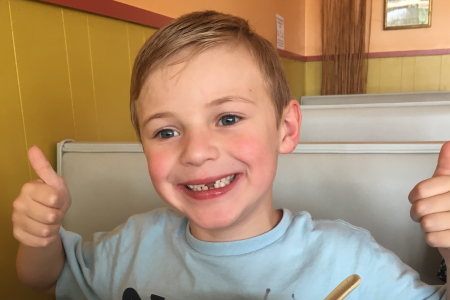 The day Jacqi and Jason welcomed their newborn son, Jackson, at a nearby hospital was one of the happiest days of their life. But in the days that followed, their happiness faded and turned to concern when Jacqi noticed her baby was having trouble breastfeeding along with staying awake and alert. After sharing her worries about Jackson with hospital staff, they realized he needed specialized care. "Our hospital didn't have the tools to diagnosis him and find out what was wrong, so they called Orlando Health," Jacqi said.
Jackson was transferred to Orlando Health Winnie Palmer Hospital for Women & Babies, a hospital dedicated exclusively to women and newborn babies. He stayed overnight before being taken to the cardiac intensive care unit (ICU) at The Heart Center at Orlando Health Arnold Palmer Hospital for Children where he would ultimately spend 60 days. It was there that the couple met Jackson's pediatric cardiologist, Dr. Susan Desjardins, who diagnosed Jackson with hypoplastic left heart syndrome, a rare congenital heart defect in which the left side of the heart is severely underdeveloped. Jacqi and Jason were met with a whirlwind of emotions.
We kind of refer to them as our second family. Every time we saw them and got to be with them, we had specific nurses who we loved and that loved Jackson.

– Jacqui, Mother of Jackson
Jacqi and Jason met with Jackson's doctors to learn what could be done for their son. After reviewing all their options, they decided to go with a series of surgeries for Jackson's plan of care. Though they faced the possibility that they may lose Jackson before his life truly began, a parent's strength is unshakeable, and they knew they had a medical team they could trust. Compelled to do anything and everything to save their son, Jacqi and Jason elected the option with the best chance for survival: a series of three heart surgeries.
Each of Jackson's surgeries helped regulate his blood flow by opening new pathways in his heart. His first surgery in April 2013 was performed by Dr. William DeCampli, pediatric cardiac surgeon at The Heart Center just 12 days after Jackson was born. His second surgery followed at four to five months old. Jacqi attributes Jackson's third and final heart surgery as the turning point in his care that truly helped him adjust to normal life.
As Jackson was being treated, Jacqi and Jason appreciated the support of the Ronald McDonald House. With a location on Orlando Health Arnold Palmer's campus, families with children being treated at local hospitals have a home-away-from-home. The Ronald McDonald House provided special comforts that the two cherished during this difficult time such as a homecooked meal and a shower after both emotionally and physically draining days. "Without them I don't know what we would've done," Jacqi said. "It was that little escape from the medical world. It was also where I got to speak with other families who were at [the hospital], so it was really nice to have that fellowship with other people."
They were also comforted by the cardiac team's care and compassion. Throughout Jackson's treatment, they grew incredibly close. "They really have become like second family," Jacqi said. "When we come back for something small, it's nice to know those same people who you've been with for years are still there and they love your child just about as much as you do."
Today, Jackson is thriving. He only has checkups every six months, a huge improvement from his weekly doctor's appointments as a newborn. Jackson can do everything the average child can, except he gets winded quicker and has to refrain from contact sports that could put too much strain on his heart. Dr. Desjardins predicts that he'll continue to do well.
Jacqi and Jason are so thankful that they trusted the Orlando Health Arnold Palmer pediatric cardiology team with their son's life. They've learned that you don't realize how much you need other people until you're truly in the moment. From the life-saving care provided by Orlando Health's nurses and surgeons to the comfort and support they received at the Ronald McDonald House, they know their family couldn't have overcome this overwhelming journey alone.