She Has a Normal Life Now. She Can Do Everything
By Orlando Health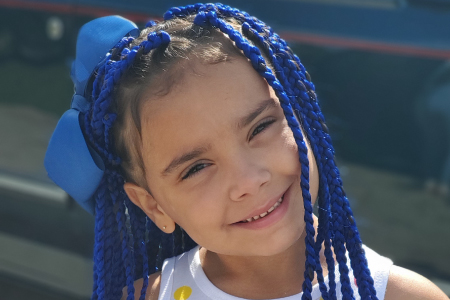 After losing a child, Yeidi moved to Kissimmee from Puerto Rico for a fresh start. At Orlando Health Winnie Palmer Hospital for Women & Babies, she gave birth to her daughter, Aurora. Though she had a difficult pregnancy due to preeclampsia and gave birth at 35 weeks making Aurora premature, Yeidi remembers the unwavering diligence and compassion from the Orlando Health Winnie Palmer team helping her through their tough time. Little did she know, she would be trusting Orlando Health with her daughter's care again a few years later.
Now 5-years-old, Aurora is Yeidi's sweet, special girl with a passion for animals. But last year, she and her family noticed a change. Family members saw Aurora limping and a teacher told Yeidi that she mentioned leg pain. When she took Aurora to the doctor, they said she was likely experiencing growing pains. Still, seeing her usually happy-go-lucky child crying often, tiring easily and not wanting to walk or be touched left Yeidi concerned.
One night when Aurora was crying because of the pain she was experiencing, Yeidi's mother urged her to take Aurora to the emergency room. At the ER, Yeidi explained everything that was happening with her daughter's health with the help of a bilingual nurse. She requested labs and x-rays, then followed up with her pediatrician who sent them directly to the emergency department at Orlando Health Arnold Palmer Hospital for Children.
We notice a big difference and she has a normal life now. She can do everything.

– Yeidi, Mother of Aurora
At Orlando Health Arnold Palmer, doctors determined Aurora had a rheumatic condition called polyarticular juvenile arthritis. Rheumatic diseases involve inflammation that affects connecting or supporting structures of the body, most commonly joints. Shortly after her diagnosis, Aurora had surgery on her right foot to help clear a buildup of fluid from her joints that was causing pain and making it difficult for her to walk.
Aurora received follow-up care from Dr. Monica Friedman, a pediatric rheumatologist at Orlando Health Arnold Palmer Hospital for Children. At their first appointment with Dr. Friedman, Yeidi was amazed at the time she took with her daughter. She performed a thorough check to fully understand Aurora's anatomy and was able to share information about her condition, surgery, medication and other treatments with Yeidi. "All the staff worked with me and they explained everything I needed to know in Spanish and English," she said. "When I came here, I didn't know a lot of English, so I was very worried. They always made sure I understood what they were doing."
Since her surgery, Aurora attends physical therapy twice a week that has led to great improvements in her balance and coordination. Her mother is overjoyed to see her amazing transformation into the energetic child she is today. "We notice a big difference and she has a normal life now," Yeidi said. "She can do everything." Before receiving care, Aurora had trouble playing, being active and even getting out of bed in the morning. Now, she enjoys riding her bike and running and playing with friends.
Dr. Friedman has continued working with the family and is hopeful that Aurora can be off medication in about two years. Yeidi believes Dr. Friedman is the best doctor her daughter could've had and is grateful for the care that has changed both of their lives. To stay informed on the latest treatments available to Aurora, Yeidi joined the Arthritis Foundation, the largest nonprofit dedicated to the prevention, control and cure of the condition. And because of Aurora's outstanding care with the Orlando Health Arnold Palmer team, she often recommends Orlando Health so her loved ones can be in what she considers the best hands for quality care.