View All Articles
Orlando Health Community Health Library Services: An Invaluable Resource for Patients and Families
When someone is diagnosed with an illness, the diagnosis affects that person and their entire family.
Navigating this journey is difficult, but many patients find comfort in getting the information they need. As cliché as it sounds, knowledge is truly power, and through the Graese Community Health Library and MCRG Patient and Family Learning Center, we try to empower patients and their families by giving them access to the information they need.
How the Graese Community Health Library Supports Patients
Our library is configured in a unique setup that allows both patients and families, and clinical team members, to get the information they need. The main library is in the McCormick building directly across from Orlando Regional Medical Center (ORMC), and serves a dual purpose. The front entrance of the library is a community library that serves patients and their families, while the remainder of the building is a medical library that serves clinical staff. We also have a second facility, the MCRG Patient and Family Learning Center, located on the second floor of the Charles Lewis Pavilion at the UF Health Cancer Center – Orlando Health, which holds resources exclusively for patients and family members. Though located in the Cancer Center, the information and resources are not exclusive to cancer topics.
The library has an interesting history. It was established in 2000, thanks to a generous donation from the Graese family. Clifford Graese had been diagnosed with multiple myeloma, a type of cancer, and couldn't access any information about his disease while he was going through treatment. Because of this experience, Mr. Graese thought it would be helpful for other patients to have a resource center on Orlando Health's campus where they could get health information. For the last 17 years, we've worked to fulfill the Graese family's mission so that no other patient or family has to go through this same experience.
Our team, which consists of three full-time librarians as well as a part-time Library Technician, also serves as a resource for patients at Winnie Palmer Hospital for Women and Babies, the Orlando Health Heart Institute, Arnold Palmer Hospital for Children and patients at other facilities in our system that need additional health information. As a consumer health librarian, I work specifically with our patients, but also provide resources to our clinicians who may visit the MCRG Patient and Family Learning Center.
The MCRG Patient and Family Learning Center
Though I work out of the MCRG Patient and Family Learning Center, I cover the entire hospital system. We are the only hospital system in Orlando with a consumer health librarian who is responsible for serving patients and families, which sets us apart. Our services are so unique that sometimes patients in our network will come to me to get information for patients at other hospitals outside of Orlando Health.
At the library, patients can access a variety of resources and services. We have internet access, so patients and their families can do anything they need to do on the computer. There's also a scan, fax and copy machine for patients and families, so they can send or receive their medical records from other hospitals, insurance forms or disability forms — all free of charge.
Most of the resources we provide include informational brochures, booklets and other print materials that patients and families can take with them. The library also has a small collection of books that patrons can check out for three weeks at a time, nutritional information and cookbooks and a collection of relaxation audio recordings on devices patients and family members can listen to for positive reinforcement and encouragement as they go through this stressful time.
Aside from these materials, one-on-one consultations are some of the most important services we provide. Sometimes patients may call or come to the library in-person to get more information, like the husband who called to ask me about information related to caring for his wife after her mastectomy. Once I receive this kind of request over the phone, I can email or mail the person the information he or she needs. If they need to renew, they can simply call me: I want to make this as easy as possible for our patients.
Educating Patients
We want to help as many people as possible, but unfortunately some patients don't know about the services we provide. That's why in January we launched the Library Care Outreach program to help more patients learn about us. I've also made an effort to perform more outreach by doing weekly rounds with patients undergoing chemotherapy and often provide them with informational material or a brochure, as well as my contact details for follow-up. I also go to waiting areas and meet patients before or after radiation treatment or infusion therapy, provide them with information and introduce myself as a resource. I do this at the Cancer Center's three satellite offices. Before these interactions, most patients didn't even know I existed or that there is a community health library. But I've already started to see big results from these efforts, as more patients and family members have called and emailed me to get health information.
The library is so important for patients and families because not all the health information that's out there is credible. We provide more accurate information than anyone would find by simply Googling a search term at home. We work alongside patients to help them understand their diagnosis and treatment, and all the information provided to patients is provided to their doctor, as well, which strengthens the continuum of care.
A recent study found that only 18% of Americans are health literate, so giving patients timely, trusted information is an important part of the care process and may help them be more engaged with their health. If a patient or family member knows what's happening around them, this can help alleviate fear of the unknown. Many patients rather know what they're facing and understand what they have to do, instead of not knowing and feeling somewhat helpless.
I'm proud that we can empower patients in this way and give them the help they need. The library is open Monday through Friday from 8 a.m. to 4:30 p.m. If you'd like more information about our services, please email [email protected] or visit this page for more details.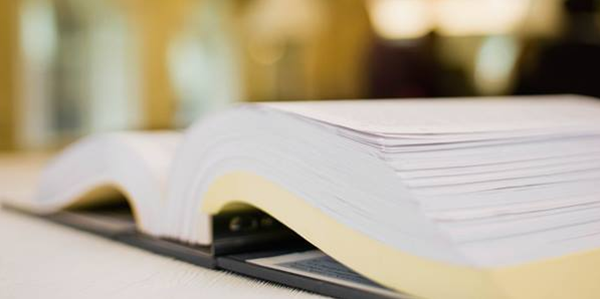 Are you interested in learning more about our library resources and services?
The Clifford E. Graese Community Health Library offers patients and visitors a place to find health information and research assistance in a welcoming and comfortable environment. In addition to free brochures and booklets on a wide range of health topics, medical librarians will help patients find quality online resources that they can use to help them further understand a health condition, disease, drug or treatment.

Learn More Here