Soccer Legend Marta and Aspiring Player Share Love of the Game — and the Same Injury
Any time there's a player with one name, you know they're legendary. And in women's soccer, that one name is Marta.
The Brazilian superstar, who's played in six World Cups and currently leads the attack for the Orlando Pride, is used to the spotlight and the pressure that comes along with it.
When you're the face of the entire sport of women's soccer, every move you make is an inspiration to young girls everywhere.
"For me, this is a source of pride, helping the new generation to follow their path, to seek their goals in life, to make their dreams come true," Marta says. (Orlando Health patient and paid endorsement)
One young woman keeping close watch on Marta is St. Cloud High School junior Victoria Pare. "My favorite player is Marta," says Victoria. "She's really great. I saw her play in Brazil, and she caught my eye there."
A huge Orlando Pride fan who plays soccer herself, Victoria would soon share something more than just a love of the sport with her idol.
'This Can't Be Real'
"I was playing in nationals and I went to clear the ball, but the girl who was pressuring me, she just ran right through my knee," Victoria says. "I didn't hear a pop, but I definitely knew it was going to be really serious." Victoria's coach carried her off the field and she finished the game on the sideline.
"I was in a lot of pain. It was a little bit of, 'Oh my God, this can't be real," says Victoria, whose parents took her to the hospital after the game. An MRI confirmed a torn ACL (anterior cruciate ligament). It was time to decide in whose hands to place her knee repair and her soccer aspirations.
"My parents do a lot of research when it comes to things they're serious about, and they're pretty serious about me. So they researched the best doctor possible," she says.
Their No. 1 choice? Dr. Craig Mintzer, chief medical officer for the Orlando Pride and orthopedic surgeon with Orlando Health Jewett Orthopedic Institute.
"Victoria came to me because she knew that I took care of the professional soccer teams in town," says Dr. Mintzer. "In orthopedic surgery you want someone who looks and says, 'I've seen that before, multiple, multiple times.' That's how you get the best treatment."
In fact, Dr. Mintzer's most recent star patient wasn't just another athlete. It was soccer superstar and icon, Marta — who also suffered a torn ACL.
'Hardest Moment'
An awkward landing after trying to catch a pass from her teammate would present a new challenge for Marta, the legend who's done it all.
"The day I got injured, I think it was the hardest moment in my career," Marta says.
I kept thinking, 'I'm going to miss the season. I won't be able to help my team.' Doubts also arose. 'Will I come back, and will I come back well?' "

- Orlando Pride Star Marta
Like Victoria, an MRI confirmed Marta's worst fears. "I kept thinking, 'I'm going to miss the season. I won't be able to help my team.' Doubts also arose. 'Will I come back, and will I come back well?' "
Facing a major injury requiring surgery for the first time in her career, Marta was certain who she would trust with her knee and her career: Dr. Mintzer.
"When you take care of these high-performance athletes, they have access to everybody around the world," says Dr. Mintzer. "I said, 'Listen, you can go wherever you want. You're not obligated to stay here.' And Marta looked at me and said, 'Why would you not want to fix me? Why would I not want to stay here?' "
For Marta, the decision was easy. "I chose to stay here because I believed so much in the people involved, in Dr. Mintzer, the hospital, Orlando Health, the entire team. I didn't think twice."
Return to Form
But surgery was just the beginning.
"One of the biggest motions you'll see in soccer players is changing directions," says Dr. Mintzer. "If you tear your anterior cruciate ligament, you can't pivot or change directions quickly, and you can't adequately do your job on the field."
Victoria and Marta both faced a long road of rehab before they could hit the field again.
"I was so determined to get back to play that I would juggle the soccer ball when everyone told me not to," says Victoria. "I just couldn't stay away from the soccer ball that long."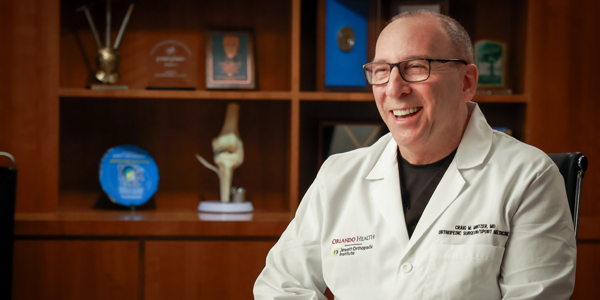 "Marta and Victoria had the same drive to get well as quickly as they could," says Dr. Mintzer. "And in fact, they both did things a little sooner than I would let them without telling me."
Despite the struggle to follow the protocol, both players soon returned to form and their respective teams.
"When I had the opportunity to play my first game, of course it was fantastic," says Marta. "And I had the opportunity to assist for the winning goal, so I won't forget that moment."
And for Victoria, there was another unforgettable moment in her future: a once-in-a-lifetime opportunity to meet her idol and compare ACL scars.
"After the care and support I received from Orlando Health, I feel ready to tackle my goals and strive for college ball," Victoria says.
At Orlando Health Jewett Orthopedic Institute, the everyday athlete is as important as the elite athlete, Dr. Mintzer says.
"The funny thing is when people say to me, 'How would you treat a soccer player like Marta?' I say, 'The same way I'm going to treat you.' Marta's a unique person. She is humble, but she realizes her place in history, and she likes to be a role model for others who want to follow in her footsteps. You never know who's going to be the next Marta."