Alisa Slimick, MBA, BSN, RN, NE-BC
Chief Nursing Officer, Orlando Health Horizon West Hospital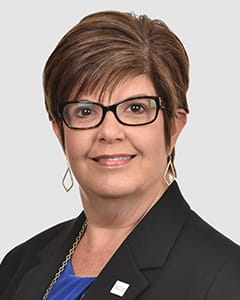 In her role as chief nursing officer for Orlando Health Horizon West Hospital, Alisa Slimick serves as the hospital's leader for the vision, strategic direction and delivery of nursing care.
Having previously served as the hospital's patient care administrator, she is prepared to continue to advance the excellence and collaboration of clinical care, education and nursing research of our systemwide nursing practices and quality standards.
Alisa has more than three decades of patient care experience, beginning her career at the former Orlando Health Lucerne Hospital as an ICU nurse. She has served in multiple leadership positions at Orlando Health Orlando Regional Medical Center and Orlando Health – Health Central Hospital, including nursing operations manager of the trauma ICU and burn unit, nursing operations manager of the emergency department and patient care administrator. At Orlando Health – Health Central, she also took on the lead role of nurse executive to create staffing plans, leadership structure, and education and training for several new units and facilities, including the freestanding Orlando Health Emergency Room – Horizon West and Orlando Health Horizon West Hospital.
Alisa earned a bachelor's in nursing from the University of Phoenix and an MBA from Saint Leo University. She is a credentialed nurse executive by the American Nurses Credentialing Center (ANCC) and serves on the board of directors for the West Orange Habitat for Humanity.