Overview
Orlando Health, headquartered in Orlando, FL, was founded more than 100 years ago and is one of Florida's most comprehensive private, not-for-profit healthcare networks. Orlando Health is a distinguished healthcare leader, serving nearly 2 million Central Florida residents and over 5,000 international visitors annually. We care for over 142,000 inpatient admissions and more than 3.9 million outpatient visits each year. Orlando Health is a $8.1 billion not-for-profit health care organization and a community-based network of physician practices, hospitals, and outpatient care centers throughout Central Florida.
Orlando Health has multiple inpatient facilities, including Orlando Health Orlando Regional Medical Center, Orlando Health Dr. P. Phillips Hospital, Orlando Health South Seminole Hospital, Orlando Health - Health Central Hospital, Orlando Health Horizon West Hospital, Orlando Health Arnold Palmer Hospital for Children, Orlando Health Winnie Palmer Hospital for Women & Babies, Orlando Health South Lake Hospital, Orlando Health St. Cloud Hospital and Bayfront Health St. Petersburg. Nearly 4,500 physicians representing more than 100 medical specialties and subspecialties have privileges across the Orlando Health System, which employs over 25,000 members. Areas of clinical excellence are orthopedics, heart and vascular, cancer care, neurosciences, surgery, pediatric specialties, neonatology, women's health and trauma. Orlando Health, together with Bayfront Health, sponsors a total of 40 training programs: 10 residency and 19 fellowship programs that are accredited by the Accreditation Council for Graduate Medical Education (ACGME) and 11 non-ACGME accredited fellowship programs and six independent pharmacy residency programs. Additionally, medical students from universities across the country and many from within Florida, including Florida State University, University of Florida and University of South Florida, come to Orlando Health to complete their medical education and training.
Our Facilities:
Orlando Health Orlando Regional Medical Center (ORMC) is an 808-bed flagship hospital located in downtown Orlando and one of the largest tertiary facilities in the region. It is served by a highly qualified team of physicians, nurses and clinical staff as well as the very latest in technology and diagnostic imaging capabilities. Orlando Health ORMC has a 96-bed emergency department and provides care for more than 100,000 patients each year. It is also home to central Florida's only Level One Trauma Center, serving 18 counties, is a comprehensive stroke center with advanced neurointerventional capabilities, regional burn center, and STEMI receiving center. Additional subspeciality care that can be found on the downtown campus includes the Orlando Health Center Cancer Institute, the Center for Digestive Health with world renowned interventional gastroenterologists, Orlando Health Jewett Orthopedic Institute, Orlando Health Neuroscience Institute and the Orlando Health Heart and Vascular Institute known for their advancements in cardiology and a rapidly growing ECMO program, and more.
Take a virtual tour of Orlando Health Orlando Regional Medical Center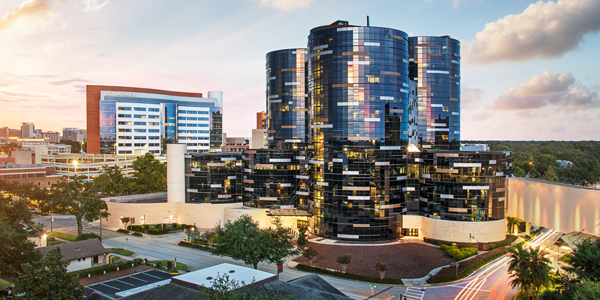 Winnie Palmer Hospital was built in 2006 and is 350-bed state-of-the-art facility providing high quality care in women's health. Its triage unit sees over 34,000 visits per year and the hospital prides itself in being one of the busiest labor and delivery centers in the nation with over 14,000 deliveries every year. Additionally, it has a designated Women's Intensive Care Unit with 5 beds allocated for high acuity patients. This is a unique opportunity to participate in the care of critically ill patients during their peri-partum period in conjunction with the obstetrics and gynecology team.
Take a virtual tour of Orlando Health Winnie Palmer Hospital for Women & Babies