Sumith Aleti, MD
Clinical Faculty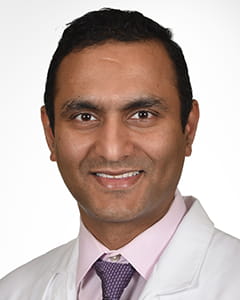 Sumith Aleti, MD, MPH, FACC, is an interventional cardiologist and endovascular specialist with the Orlando Health Heart & Vascular Institute. He is board certified in cardiology, interventional cardiology, echocardiography and nuclear cardiology.
Dr. Aleti earned his medical degree from Osmania Medical College in Hyderabad, India followed by a master of public health at East Tennessee University. He completed both a medical residency and general cardiology fellowship at University of Arkansas for Medical Science. Dr. Aleti went on to complete a fellowship in interventional cardiology at Baystate Medical Center/Tufts University School of Medicine in Springfield, Massachusetts.
Before joining Orlando Health, Dr. Aleti practiced three years at First Coast Cardiovascular Institute in Jacksonville, Florida, as well as one year at Heart & Vascular Institute of Winchester, Virginia.
Dr. Aleti has been published in the American Journal of Cardiology, Journal of Invasive Cardiology, Catheterization and Cardiovascular Interventions journal, and has presented at numerous medical conferences. In addition, he co-published a book chapter on mitral and aortic balloon valvotomy. Dr. Aleti is a fellow of the American College of Cardiology.