Faculty
There are ten full-time faculty members, as well as a number of volunteer faculty, who are enthusiastic clinicians committed to teaching. Our volunteers have been extremely supportive of resident education. Each service has a director who develops an academic curriculum keeping the residents education as the top priority.
George Haidukewych, MD
Academic Chairman
Orthopedic Residency
Dr. Haidukewych, Professor of Orthopedic Surgery at the University of Central Florida, is a full-time fellowship trained traumatologist and Co-Director of the Orthopedic Trauma Service at Orlando Health. He is also Chief of Complex Adult Reconstruction, and, in addition to his trauma duties, performs a significant number of complex revision total joint cases. His practice also includes post traumatic reconstructive surgery of the hip and knee joint, and management of prosthetic infections. Dr. Haidukewych received his M.D. degree from Wayne State University School of Medicine in Detroit, Michigan. He then completed his residency at the Mayo Clinic, in Rochester, Minnesota. After his trauma fellowship in Tampa, Florida, he returned to the Mayo Clinic where he served as Chief of Orthopedic Trauma. He then joined the Florida Orthopedic Institute in Tampa where he served as co-director of the Adult Reconstructive Fellowship and Associate Professor at the University of South Florida.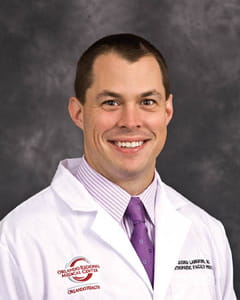 Joshua Langford, MD
Program Director
Orthopedic Residency
Dr. Langford was born and raised in rural Northern Illinois. He attended Washington University in St. Louis for his undergraduate degree and then continued on to The University of Illinois College of Medicine for his medical degree. After this, he completed the Orthopedic Surgery Residency Program at The Mount Sinai Hospital in New York, NY. He then completed an orthopedic traumatology fellowship at Tampa General Hospital under the tutelage of Dr. Roy Sanders and the Florida Orthopedic Institute's Orthopedic Trauma Service. His interests include post traumatic deformity, limb lengthening, limb salvage, bone infection, and pelvic/acetabular fractures. Dr. Joshua Langford joined the Orthopedic Faculty Practice in August 2008.
Frank Avilucea, MD
Director of Orthopaedic Research
Adult Orthopaedics

Dr. Avilucea is fellowship trained and board certified by the American Board of Orthopaedic Surgery. He focuses on care of pelvic and acetabular fractures, the polytraumatized patient, complex periarticular fractures, and limb reconstruction using Ilizarov technique. Dr. Avilucea completed his undergraduate degree at Dartmouth College and his medical degree at the University of New Mexico School of Medicine. He completed his Orthopaedic Surgery training at the University of Utah followed by completing a one-year Orthopaedic Trauma fellowship at Vanderbilt University in Nashville and subsequently was awarded a traveling fellowship through the Limb Lengthening Reconstruction Society. Dr. Avilucea has authored several peer-reviewed publications and numerous book chapters. He is actively involved in clinical research, medical education and national orthopaedic organizations.
Stanley Kupiszewski, MD
Adult Orthopedics
Dr. Stanley Kupiszewski was born in Murfreesboro, Tennessee, raised in Tallahassee Florida. He attended the University of Florida and was a member of the National Championship swimming team in 1983 and 1984. Dr. Kupiszewski has been with Orlando Health since August 2006.
Mark Munro, MD
Adult Orthopedics
Dr. Mark Munro was raised in New York State and went to college at Houghton College in Houghton, New York. His next nine years were spent in Pennsylvania at Penn State Medical School and orthopedic residency at Geisinger Medical Center in Danville, Pennsylvania. His orthopedic training was continued with an Orthopedic Trauma Fellowship in Tampa, Florida, specializing in pelvic fractures and upper/lower extremity fractures. Dr. Munro has been with Orlando Health since August 2004.
Mark Birnbaum, MD
Pediatric Orthopedics
Dr. Birnbaum manages congenital and traumatic problems of the upper extremities in children. He is probably the hardest worker in the group and is always available to see consultations or assist with difficult cases of any type.
Jose Herrera-Soto, MD
Pediatric Orthopedics
Dr. Herrera-Soto trained in Puerto Rico and Cincinnati, Ohio. Prior to joining the Pediatric Orthopedic Medical Education Faculty Practice, he served on the faculty at Penn State University. Dr. Herrera-Soto is an accomplished spine surgeon and recently completed a special fellowship in Switzerland where he studied new methods for complex hip surgery in children and young adults with early onset arthritis. He has published several scientific papers in peer-reviewed journals and has been a speaker at national and international meetings.
Raymond Knapp, MD
Pediatric Orthopedics
Dr. Knapp hails from West Virginia and has additional training in highly complex spinal deformity in children. He has had additional training in innovative methods developed in Korea as well as new methods developed in the United States. Dr. Knapp also manages children with congenital and acquired amputations in addition to his general interest in trauma and other aspects of pediatric orthopedics.
Jonathan Phillips, MD
Pediatric Orthopedics
Dr. Phillips trained as a general surgeon in Great Britain prior to entering orthopedic training in the United States. His broad knowledge and experience as a British surgeon brings a perspective to the practice that is novel and innovative. His special interests include neck problems in children, trauma, neuromuscular disorders, and spinal deformity. Additionally, Dr. Phillips has developed and patented a unique fixation device for treating femur fractures in children. This special device is being used throughout the U.S. and Europe.
James Toledano, MD
Pediatric Orthopaedics
James Toledano Jr., MD, a board-certified orthopedics surgeon, is a physician with the Arnold Palmer Hospital for Children Center for Orthopedics. Dr. Toledano earned his medical degree from Georgetown University School of Medicine in Washington, D.C. He completed a general surgery internship at Naval Medical Center Portsmouth and an orthopedic surgery residency at Saint Louis University School of Medicine. He later completed a fellowship in pediatric orthopedic surgery at Orlando Health. D. Toledano's medical experience includes 24 years with the U.S. Navy. Among his many tenures, he served as director of pediatric orthopedic and scoliosis surgery for seven years at Naval Medical Center San Diego where he performed more than 1,000 surgical pediatric procedures. An experienced clinical researcher, Dr. Toledano served on the Steering Committee of the Major Extremity Trauma Research Consortium, a network of over 25 trauma facilities conducting multicenter clinical research with the Department of Defense.
Brett James Lewellyn, MD
Hand and Upper Extremity
Dr. Lewellyn completed his residency here at Orlando Health and went on to do a Hand Fellowship at Florida Orthopaedic Institute in Tampa, FL . He joined the Orlando Health/Level One Orthopaedic practice in September 2013.
Daryl C. Osbahr, MD
Sports Medicine
Daryl C. Osbahr, MD, is an internationally renowned orthopedic sports medicine surgeon that serves as chief of sports medicine for Orlando Health. He previously served as the director of sports medicine research and associate director of the MedStar Sports Medicine Fellowship at MedStar Union Memorial Hospital in Baltimore, Maryland. He is currently a team physician to Orlando City Soccer Club, assistant team physician to the Washington Nationals Baseball Club and previously served as a team physician and orthopedic consultant to other professional and college-level teams, including the Washington Redskins, Baltimore Ravens, Loyola University of Maryland, Birmingham Barons, Troy University, the Professional Golf Association and the Alabama Ballet. He completed an orthopedic surgery residency at Hospital for Special Surgery in New York, NY and an orthopedic sports medicine fellowship at the Andrews Sports Medicine & Orthopaedic Center in Birmingham, AL, under the guidance of Dr. James Andrews.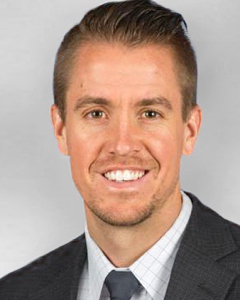 Justin Zumsteg, MD
Hand and Upper Extremity
Justin Zumsteg, MD, is a board-eligible orthopedic surgeon with the Orlando Health Orthopedic Institute, where he specializes in hand, upper extremity and microvascular surgery. Dr. Zumsteg earned his medical degree from the University of Michigan Medical School, where he received multiple awards and honors. He completed an orthopedic surgery residency at Vanderbilt University Medical Center, followed by a fellowship in hand, upper extremity and microvascular surgery at the Indiana Hand to Shoulder Center. Dr. Zumsteg's work has been published inmultiple peer-reviewed journals. Additionally, he is a candidate member of the American Society for Surgery of the Hand, and a member of the American Association of Orthopaedic Surgeons.
Jeffrey R. Petrie, MD
Hip and Knee Joint Preservation
Dr. Jeff Petrie is a fellowship-trained orthopedic surgeon with Orlando Health Orthopedic Institute. He has expertise in hip and knee joint preservation, joint replacement and hip resurfacing procedures. Dr. Petrie earned his medical degree from the Medical College of Georgia in Augusta, Georgia, where he was inducted into the Alpha Omega Alpha honor medical society. He completed his orthopedic surgery residency at Orlando Health, where he received the Orlando Health Exemplary Physician Colleague Award and the 2015 Resident Research Award. Dr. Petrie completed a hip and knee preservation, resurfacing and replacement fellowship at Washington University School of Medicine in St. Louis., performing more than 600 surgeries. Dr. Petrie has authored numerous peer-reviewed scientific articles and book chapters, and his current research interests include joint preserving treatments for hip dysplasia and hip impingement utilizing arthroscopic and open techniques, minimally invasive joint replacement, and outcomes following revision hip and knee replacement. Dr. Petrie is a member of numerous professional organizations, including the American Academy of Orthopedic Surgeons, American Association of Hip and Knee Surgeons and Orthopedic Trauma Association.
Benjamin Service, MD
Shoulder and Elbow Surgery
Benjamin Service, MD, is an orthopedic surgeon with the Orlando Health Orthopedic Institute, where he specializes in Shoulder and Elbow Surgery. Dr. Service earned his medical degree from the University of Florida College Of Medicine in Gainesville, where he was inducted into the prestigious Alpha Omega Alpha Medical Honors Society and also the Gold Humanism Honors Society. Dr. Service completed an orthopedic surgery residency at Orlando Health, followed by a Shoulder and Elbow Surgery Fellowship at the University of Washington in Seattle. Dr. Service's philosophy focuses on restoring function to injured areas of the body, with an emphasis on first using conservative treatments when possible. His orthopedic interests include all types of shoulder and elbow problems, as well as sports medicine and trauma. He has served as an Orthopedic Surgery instructor at both the University Of Central Florida College Of Medicine and the University Of Washington Department Of Orthopedic Surgery. Dr. Service is a member of the American Academy of Orthopaedic Surgeons. He has been invited to speak at multiple conferences, giving lectures and presentations. Additionally, he has authored several book chapters and peer-reviewed articles.
Rotation Directors and Voluntary Teaching Faculty
Orthopedic Trauma
George Haidukewych, MD
Joshua Langford, MD
Frank Avilucea, MD
Stanley Kupiszewski, MD
Mark Munro, MD

Orthopedic Sports Medicine
Daryl Osbahr, MD
Amit Varma, MD
Robert Murrah, MD
Tom Winters, MD
Kevin Nowicki, MD

Orthopedic Spine
Joseph Flynn, Jr, MD
Geoffrey Stewart, MD

Spine Trauma
Jacques Farkas, MD
Marshall Cress, MD
Robert Hirschle, MD

Orthopedic Hand
Brett Lewellyn, MD
Justin Zumsteg, MD
Kurt Gasner, MD
Mike Riggenbach, MD

Orthopedic Adult Reconstruction
George Haidukewych, MD
Jeffrey Petrie, MD

Musculoskeletal Oncology
Mark Scarborough, MD
Parker Gibbs, MD
Andre Spiguel, MD

Foot and Ankle
Stephen Choung, MD

Shoulder and Elbow
Benjamin Service, MD

Pediatrics
Jose Herrera Soto, MD
Jonathan Phillips, MD
Raymond Knapp, MD
James Toledano, MD
Mark Birnbaum, MD
Residents