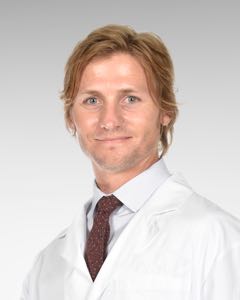 Jeffrey R. Petrie, MD
Hip and Knee Joint Preservation
Jeff Petrie, MD, is a fellowship-trained orthopedic surgeon with Orlando Health Orthopedic Institute. He has expertise in hip and knee joint preservation, joint replacement and hip resurfacing procedures.
Dr. Petrie earned his medical degree with honors from the Medical College of Georgia. He completed his orthopedic surgery residency at Orlando Health, where he received the Orlando Health Exemplary Physician Colleague Award and the 2015 Resident Research Award. He also completed fellowship training in hip and knee preservation, resurfacing and replacement at Washington University School of Medicine in St. Louis, performing more than 600 surgeries.
Dr. Petrie has authored numerous peer-reviewed scientific articles and book chapters. His current research interests include minimally invasive joint replacement, revision hip and knee replacement, and joint preservation treatments for hip dysplasia and hip impingement utilizing arthroscopic and open techniques.
Dr. Petrie is a member of numerous professional organizations, including the American Academy of Orthopaedic Surgeons and the American Association of Hip and Knee Surgeons.