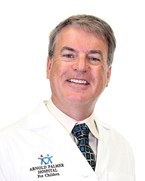 Jonathan Phillips, MD
Pediatric Orthopedics
Jonathan Phillips, MD, is board certified in orthopedic surgery and serves as a pediatric orthopedic surgeon at Orlando Health Arnold Palmer Hospital for Children Center for Orthopedics.
Dr. Phillips earned his medical degree at St. George's, University of London. He trained in orthopedics and general surgery in England and Wales prior to his orthopedic training in the United States. Dr. Phillips performed his orthopedic residency in Indianapolis. In addition, he completed a pediatric orthopedic fellowship at Gillette Children's Specialty Healthcare in St. Paul, Minnesota, and at Shriners Hospitals for Children – Twin Cities in Minneapolis.
Dr. Phillips has developed and patented a fixation device used throughout the world for treating femur fractures in children. He specializes in treating congenital, neuromuscular and idiopathic scoliosis, as well as kyphosis and spinal deformities. He also specializes in the treatment of cerebral palsy, orthopedic trauma and neck problems in children.