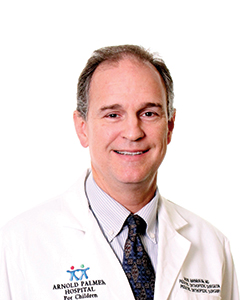 Mark Birnbaum, MD
Pediatric Orthopedics
Mark Birnbaum, MD, is board certified in orthopedic surgery and manages upper-body injuries and congenital problems at Orlando Health Arnold Palmer Hospital for Children Center for Orthopedics.
Dr. Birnbaum earned his medical degree from the University of Wisconsin School of Medicine and Public Health in Madison, followed by an orthopedic surgery residency at Michigan State University in East Lansing. He completed his pediatric orthopedic fellowship at Orlando Health Orlando Regional Medical Center and has been in practice since 1990.
Dr. Birnbaum treats children with congenital and developmental orthopedic problems as well as pediatric fractures. He participates in multidisciplinary clinics, including those focused on treating spina bifida and spasticity.