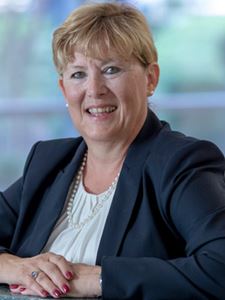 Bonnie Onofre oversees the development and execution of strategic planning processes for nursing across the hospital's continuum of care. Her career has included a number of key leadership roles, including serving as chief nursing officer and vice president for The Guthrie Clinic in northern Pennsylvania.
Bonnie earned her bachelor of science degree in nursing from Alfred University and a master of science degree in nursing and a Clinical Nurse Specialist credential from Syracuse University. Additionally, she earned a post master's certificate as a Family Nurse Practitioner from New Binghamton University-SUNY, all in New York.
She is a member of the American Nurses Association and is board certified as a Nurse Executive Advanced by the American Nurses Credentialing Center.