Welcome from the President
Vice President, Orlando Health; President, Orlando Health Cancer Institute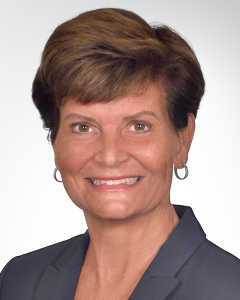 Welcome to Orlando Health Cancer Institute. As a recognized leader and one of the largest healthcare systems in the state, our expertise covers all types of cancer and all phases of cancer care. Our primary goal is to bring the highest level of care to you in the most compassionate setting possible. To accomplish this, we have a tremendous group of physicians and staff who are skilled, subspecialized and on the forefront of offering and often developing the most advanced treatments and technology, in a coordinated and compassionate, personalized manner. When you come to Orlando Health Cancer Institute, you become part of our family, with a whole team of experts, who have come from all over the world, working together to develop the best possible plan of care for you and your specific needs.
Our state-of-the-art technology and care include being the first in the country to open an expanded access program for TIL immunotherapy for melanoma, having one of the country's largest programs for robotic surgery, a leading site for microvascular reconstruction and lymphedema surgery, and having the only proton center in Central Florida. In addition, we offer bone marrow transplant, CAR-T therapy, adaptive radiation, hypofractionation – or fewer radiation treatments – for select patients, and a wide range of clinical trials.
As a cancer survivor myself, I understand how overwhelming a cancer diagnosis can be and the disruption that it can bring to your life. We are committed to making your cancer journey as comfortable and stress-free as we can. We recognize the urgency of getting an accurate diagnosis and beginning the right treatment, both for your peace of mind and for the best outcome. That's why our goal is to offer expedited appointments for new patients, so you can get started on the road to healing as soon as possible. To do this, we have 10 sites of cancer care located across Central Florida to ensure you have convenient access to world-class cancer services close to home.
I am pleased to have this opportunity to share a few highlights of the exceptional care you will receive at Orlando Health Cancer Institute. As you explore our website, you will find more information about our institute's comprehensive clinical services, treatment innovations and research initiatives. You can be assured that we will continue purposeful treatment and advancement as we remain committed to our mission "to encourage and inspire hope by delivering world-class results."
Welcoming you with warmest regards,
Margo Shoup, MD, MBA, FACS
President, Orlando Health Cancer Institute
Surgical Oncologist