Orlando Health Team Member Invents Device to Sanitize Pens & Styluses Between Use
January 6, 2020
Orlando Health Strategic Innovations announced the development of CleanBlock, its most recent team member invention created to aid in efforts to reduce hospital-acquired infections in healthcare settings. The cutting-edge device is designed to decrease the spread of bacteria that can occur through the shared use of handwriting instruments such as pens and styluses.


CleanBlock was invented by Orlando Health biorepository manager Todd Roberts to prevent the spread of germs in high volume areas such as waiting rooms and other clinical settings. His inspiration for creating the product initially struck in a medical waiting room. While waiting to sign in, he noticed that the person in front of him was visibly ill and had used the pen at the reception desk. While speaking with a nurse, she explained how much easier decontamination would be if there was a way to do it after each use.

Current hospital standards for cleaning writing instruments can require healthcare workers to use bleach-based wipes which can be harmful to the skin and time-consuming. CleanBlock instantly removes bacteria from pens by using a sanitizing agent that is 70 percent alcohol, a higher concentration than most consumer-grade sanitizing gels. Writing instruments are inserted into the device where it passes through the disinfecting agent and comes out clean, dry and ready to be used.

"Preventing the spread of infection might not mean a lot to some people, but for others it's detrimental," said Roberts. "I knew that if this could benefit oncology patients and other patients with weakened immune systems, then it could certainly benefit the general public too. Seeing people use the CleanBlock and benefit from it is my ultimate goal."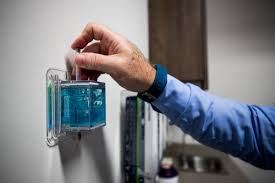 Lab testing found that 99.9 percent of bacteria found on pens were eliminated after passing through the device. CleanBlock was one of four projects chosen in 2018 to participate in the inaugural Orlando Health Foundry program. The initiative exists to help team members and physicians advance ideas that will impact the future of healthcare.

"We're constantly striving to find solutions that positively affect our patients," said Michael Schmidt, managing director for strategic innovations. "The Orlando Health Foundry program allows us to reach this goal by supporting our team members and physicians as they develop innovations that will meaningfully impact how we care for our patients."

Leaders from the Orlando Health Nursing Research team, Office of Corporate Research, Supply Chain and Corporate Lab teams assisted Roberts in the development of the product. While the product was developed for use in a healthcare setting, it can also be used anywhere shared writing instruments are used. Orlando Health plans to install CleanBlock systemwide in 2020.
The CleanBlock can be purchased at TheCleanBlock.com.