Wellness Leadership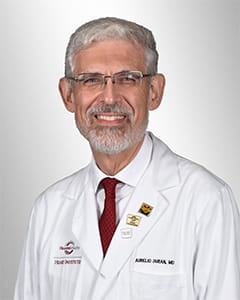 Dr. Aurelio Duran
Dr. Duran joined what would become Orlando Health Heart & Vascular Institute in 1992. Dr. Duran is board certified in internal medicine, cardiovascular disease and clinical cardiac electrophysiology.
Dr. Duran earned his medical degree from Harvard Medical School in Boston. He then completed his internal medicine residency at Columbia University's College of Physicians and Surgeons in New York, followed by a fellowship in cardiology at the University of Florida, as well as a fellowship in cardiac electrophysiology at the University of Miami.
During Dr. Duran's tenure, he established Orlando Health as a regional referral center for cardiac ablation and arrhythmia device therapies, including a concentration in atrial fibrillation. He has served in numerous leadership roles include director of the electrophysiology laboratory, chairman of cardiology and leadership chairman. Dr. Duran is the immediate past chief of staff and serves on the Orlando Health Board of Directors.
---
Mary D. Senne, PHD
Dr. Senne leads Orlando Health's strategy to build a nationally regarded physician wellness program. Through coaching she guides the professional development of Orlando Health's physician community; helping physicians enhance leadership skills, balance their professional, managerial and personal responsibilities. Mary Senne, Ph.D. focuses on physician coaching with an emphasis on leading through self-awareness. Mary brings over 30 years of clinical practice and academic experience to the position. Since 2015, Mary has provided coaching to more than 250 physicians, participated in wellness trainings and grand rounds, consulted with senior leadership and provided support and consultation to many out-patient and in-patient practices.

Dr. Senne completed her undergraduate degree at the University of Florida in clinical psychology. After completing a master's degree in clinical psychology in 1984, worked in the mental health field for 28 years. In 1992, began working in the disability community on behalf of second child Patrick. Efforts included development of a behavioral center for children diagnosed with autism, Quest Kids, followed by the creation of the Center for Autism and Related Disabilities (CARD) in 1997. Founded the Toni Jennings Exceptional Education Institute in 1999 at the University of Central Florida. She received Governors Points of Light Award from State of Florida for work in area of disabilities and education. Dr. Senne completed her doctoral degree in 2002 from the University of Central Florida and continued as faculty for 10 years.

Kenny Tello, LCSW, CAP, CCTP
Kenny is currently the manager of the Physician Wellness & Resilience, the Team Member Well-Being, and the Employee Assistance Program. Through these roles, he collaborates in the transformation of how services are delivered, how individuals are empowered, and how the organization continues to be the best place to work.
As healthcare and other industries continue to evolve, Kenny's background and expertise have laid the foundation for evidence-based and comprehensive services with the human aspect front and center. He has demonstrated a keen set of competencies to develop integrated systems across different platforms and organizational strategies that are progressive, holistic, and inclusive. His relentless pursuit of excellence and the impact he has had on countless lives have turned Kenny into a sough-after speaker for local and national conferences.
Kenny is currently finishing a PhD in Industrial and Organizational Psychology with an Emphasis in Leadership. Kenny's research focuses on leadership effectiveness during difficult situations, and effective methods to increase psychological empowerment, resilience, and job engagement.
As part of Orlando Health, Kenny continues to develop programs and resources to empower clinicians, equip leaders, and transform the organization.
Martin Derrow MD, FACP
Martin Derrow MD, FACP was part of Orlando Health Physician Associates from 1986 through his retirement in 2020. He is board certified in Internal Medicine and served as the Chief of Internal Medicine at Physician Associates.
After earning his medical degree from The Ohio State University College of Medicine Dr. Derrow completed his residency at the University of Cincinnati College of Medicine and Riverside Methodist Hospital in Columbus, Ohio. He is a Fellow of the American College of Physicians as well as a member of the Alpha Omega Alpha Honor Medical Society, a professional medical organization that recognizes and advocates for excellence in scholarship and the highest ideals in the profession of medicine. Dr. Derrow has been awarded the Exemplary Physician Colleague Award by Orlando Health, Preceptor Excellence Award from the UCF College of Medicine and voted one of the "Top Doctors in Orlando" by Orlando Magazine.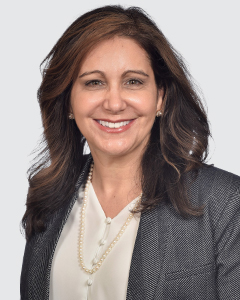 Laura Cuty-Ruiz, PhD
Laura Cuty-Ruiz, PhD, serves as a wellness and resilience coach for physicians and advanced practice providers at Orlando Health. With a background and expertise in medical education, clinical practice and academia, she has developed multidisciplinary educational training programs including the development and enhancement of clinical skills in medicine with a focus on the humanism of medicine. She has an interest in the developmental process of medical trainees and physician learners and their evolution as practitioners, with the goal of supporting wellness and resilience over a clinician's professional lifespan.
Prior to joining Orlando Health, Laura was the founding director of the Clinical Skills and Simulation Center at the University of Central Florida College of Medicine and serves on the medical school's admissions committee. She also served as a staff psychologist within the Department of Justice Federal Bureau of Prisons, supporting various therapeutic programs. She has taught at the undergraduate and graduate level and held multiple academic appointments.
After completing her undergraduate studies in psychology at Florida State University, Laura earned a master's degree in counseling from the University of Alabama at Birmingham and a doctoral degree from the University of Alabama.
Married with three daughters, Laura enjoys spending time with her dachshunds and wheel throwing pottery.