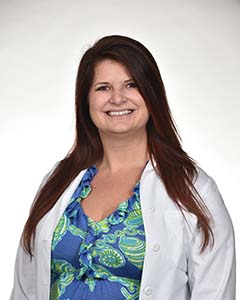 Tory Weatherford, M.D.
Tory Weatherford, M.D. graduated medical school from the University of Arkansas for Medical Sciences in 2013. She went on to complete Emergency Medicine residency at Orlando Regional Medical Center in 2016. She completed a fellowship in Pediatric Emergency Medicine at Arnold Palmer Hospital.

Dr. Weatherford joined Emergency Physicians of Central Florida full time in 2018, and splits time between Arnold Palmer Hospital, Orlando Regional Medical Center, and Four Corners Free Standing Emergency Department.

Dr. Weatherford has created a comprehensive wellness curriculum for emergency medicine residents. She wanted to take an active role in providing support and resources for residents who may find themselves experiencing burnout and lack of career satisfaction. Dr. Weatherford's vision is to promote wellness as well as an overall sense of camaraderie and support within the program.