View All Articles
Summer Safety Tips: 5 Ways to Make Sure You Stay Out of the ER
With trips to the beach, vacations, festivals and more, summer means leisure for most people.
But even though it's a relaxing time, there are still health and safety issues you should be aware of during summer, namely heat stroke, food poisoning, boating safety and theme park safety.
Before you kick up your feet and enjoy what's left of the sunny season, keep these things in mind:
Avoid Heatstroke
Heatstroke occurs when your body overheats. This usually happens when you've spent a lot of time outside in hot weather.
Heatstroke occurs if your body temperature rises to 104 degrees Fahrenheit or above. It can lead to organ damage if it isn't treated, so if you begin to sweat excessively, feel dizzy or faint, have nausea and vomiting or feel confused and have trouble speaking, it's best to go to the emergency room immediately.
To avoid heatstroke, wear loose, lightweight clothing, drink plenty of water, avoid outdoor activity during extremely high temperatures and wear sunscreen to prevent sunburn, which can affect your body's ability to cool down. Certain medications, like diuretics, also can cause dehydration, so watch out for symptoms like an increased heart rate and breathing, excessive thirst, fatigue, lightheadedness and dry mouth. Drink more fluids to avoid dehydration, which can increase your risk of heatstroke.
Staying Hydrated
We've already talked about hydration, but it bears repeating — drink plenty of fluids in the summer.
During summer, some people tend to indulge in soft drinks, cocktails, wine and other forms of alcohol, but these beverages can cause your body to lose more fluid, which leads to dehydration.
To avoid dehydration, drink water 20-30 minutes before you work out and immediately after it if you plan to exercise outdoors, drink at least 64 oz. of water every day (carry a water bottle with you to make this easier) and substitute soft drinks, alcohol or fruit juices for water with some of your meals. Fruits and vegetables also contain a lot of water, so make these staples in your diet to increase your fluid intake.
Staying Safe on a Boat
In the summer months, the number of fatal boating accidents tend to increase, according to U.S. Coast Guard data. There were 105 fatal boating accidents in June 2016 and 129 fatal boating accidents in July 2016. Combined these two months had a higher number of fatal boating deaths than January through May of that year.
Boating accidents happen for a variety of reasons. Drinking alcohol — often referred to as "boating under the influence" — is one factor that may drive the higher number of boating accidents in the summer. Speeding, not following proper safety protocols and lack of property safety equipment (life jackets, for example) also contribute to these accidents.
If you own a boat or plan to go out on one, make sure that its safety inspections are current, that there's proper safety equipment onboard and that no one who is operating the boat has been drinking. Drinking can impair your reaction time, your judgement, your depth perception and your vision. Alcohol is the leading contributor to boating accidents where authorities have identified the cause. It contributes to 15 percent of fatal boating accidents, so it's best to avoid alcohol in these situations to stay safe.
Preventing Food Poisoning
Who doesn't love a good grilled burger or hot dog in the summer? We all do, but improper food storage and preparation can lead to food poisoning.
You always should keep food cold until you're ready to cook it and cook meat and chicken to the correct internal temperature. Safe preparation also is important, so make sure to keep raw meats separate from everything else, double check to make sure all your plates are clean before serving food and frequently wash your hands and utensils when preparing food. Also be careful about the grilling tools you use, as the bristles on wire brushes can fall off and land in your food. If you eat one of these bristles, it could injure your mouth, stomach or throat or get caught in your airway, which is a serious choking hazard. For other helpful summer food safety tips, review this checklist on Foodsafety.gov.
Watch out for Fireworks
Fireworks, gasoline and lighter fluids tend to be more in use during the summer. These products contain toxic chemicals that can increase the risk of injury, including child poisoning and burn injuries. To keep your kids safe this summer, make sure these products are stored in an area where only an adult can reach them.
Staying Safe at Theme Parks
There are more than 400 theme parks in the U.S., and every year 375 million people visit theme parks in North America.
Riding a rollercoaster is almost a rite of passage for American children, but theme parks also come with some safety pitfalls for families.
If you are visiting a theme park this summer, make sure you follow park rules. Many parks have signs posted regarding restrictions for certain rides or restricted areas where visitors aren't allowed. Also make sure you don't have any loose clothing or jewelry when you get on a ride, as this can get stuck in the equipment and lead to serious injury.
Theme parks usually are an all-day experience, so don't forget to drink enough water and to take a break if you feel tired, especially if you've just gotten off a high-speed ride.
Summer is a great time to enjoy family, friends and leisure, but it also leads to more outdoor activities that could pose a safety risk if you don't take the proper precautions. About 27 percent of ER visits take place during the summer and it's also the time of year when trauma accidents are most likely to occur. Avoid an ER visit and follow the tips I've outlined to stay safe this season.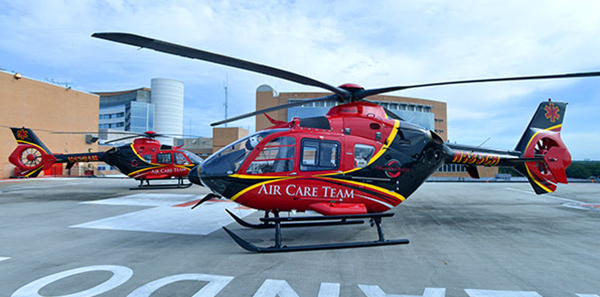 Are you interested in learning more about our Emergency and Trauma Care?
Emergencies can happen anytime, anywhere. Which is why all Orlando Health hospitals are equipped and staffed to handle any emergency situation — big or small. Our team of physicians are all board certified in emergency medicine, and are here for you, 24 hours a day, seven days a week. We are also proud to offer Central Florida's only Level One Trauma Center, located at Orlando Health Orlando Regional Medical Center.
Learn More Here