About Us
Choose a next-generation orthopedic partnership. The Orlando Health Jewett Orthopedic Institute brings together the two most respected orthopedic and sports medicine practices in Central Florida: the Jewett Orthopaedic Clinic, with eight decades of service to the community, and Orlando Health, home to the region's only Level One Trauma Centers for adults and children.
With more than 70 years of excellence in graduate medical education, Orlando Health's orthopedic residency program ranks fourth in the United States, according to the Journal of American Academy of Orthopedic Surgeons.
With focus on care for over 250,000 patients each year, our doctors have the experience and expertise to treat any orthopedic condition and get you back to the life you love.
Our Specialty Orthopedic Centers
Our doctors specialize in the full range of orthopedic care, including: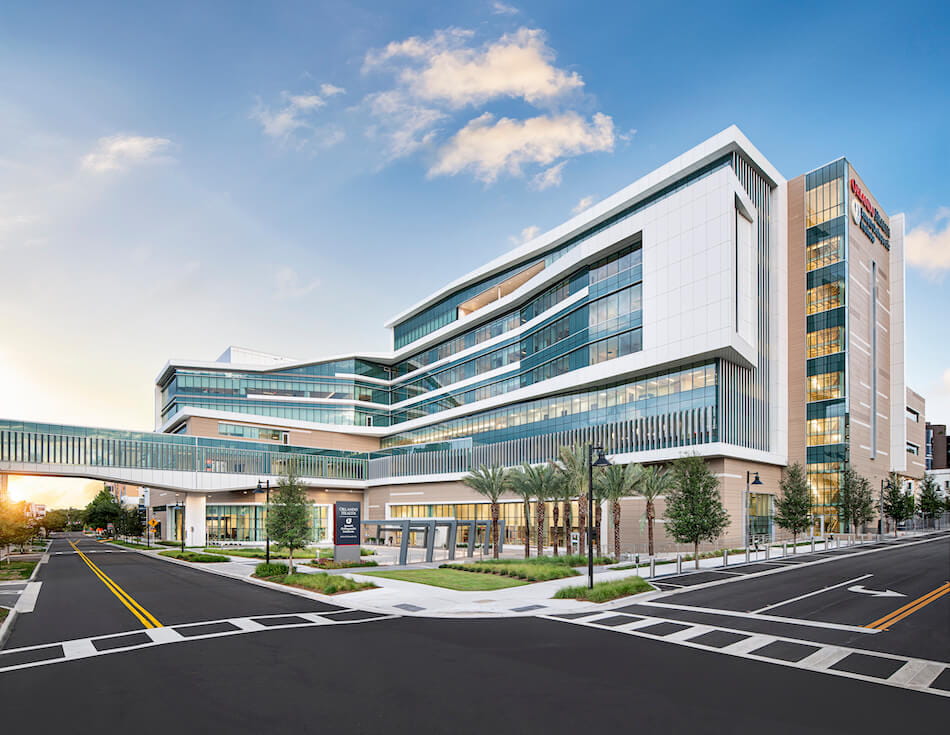 Our Downtown Complex, featuring Florida's First Dedicated Orthopedic Hospital
Our new 375,000-square-foot downtown complex features a medical pavilion and a full-service orthopedic hospital. This premier clinical destination brings our services together under one roof, ensuring we provide high-quality, multidisciplinary care.
Soccer Legend Marta and Aspiring Player Share Love of the Game — and the Same Injury
International soccer legend and Orlando Pride player Marta inspires young girls everywhere. One of her fans, St. Cloud High School soccer player Victoria Pare, shared with Marta something more than a love of soccer: They both suffered torn ACLs. Marta is an actual patient and paid endorsement.
Marta & Victoria
Orthopedic Surgery Patients
Foot Injuries Put Lives on Pause for Soccer Player and Busy Mom
Robin Jansson is a star defender for the Orlando City Soccer Club, thrilling thousands of screaming fans with every slide tackle and kick. Katie Erickson is a busy mom who is an executive at a Florida theme park – all while managing Type 1 diabetes. The two strangers with totally different lives had one thing in common: Foot injuries that threatened to derail their futures. Robin Jansson is an actual patient and paid endorsement.
Robin & Katie
Orthopedic Surgery Patients
I Choose Expert Orthopedic Care to Stay Active
When it was revealed that Ellis' pain was being caused by a torn meniscus and that he needed knee surgery, Dr. McFadden gave Ellis the opportunity to choose the care he felt was best.
Ellis
Orthopedic Surgery Patient
I Choose Orthopedic Experts to Stay in the Game
JD is used to giving everything his all, so when looking for care for his orthopedic injuries, he expected a team equally committed to his wellbeing. With Orlando Health's orthopedic experts, JD received successful surgeries that relieved his aches and pains improved his quality of life.
J.D.
Orthopedic Surgery Patient
I Choose Expert Orthopedics to Keep Dancing
Kelley danced her way through life until a foot injury threatened her career. But after taking a leap of faith at Orlando Health, she knew the orthopedic experts would put her on the right path to recovery. Learn why Kelley can once again perform amazing leaps and is teaching the next generation of dance.
Kelley
Orthopedic Surgery Patient
It gave me my freedom back
My knee pain had gotten so bad that I found it hard to walk and stand. Everything was a real effort, and it was exhausting. Knee replacement surgery at Orlando Health gave me my freedom back. I now have my normal life back and don't have to question if I can do something anymore.
Claire
Orthopedic Surgery Patient
More than a doctor. A mentor!
Dr. Lewellyn is such a phenomenal surgeon and such an amazing person. He has encouraged me to pursue orthopedic surgery as a career. Just to know that I could be a life changer the way that he changed my life has for sure motivated me.
Paula
Orthopedic Surgery Patient
An Intentional Level of Care
The quality of the care I received, from Dr. Murrah and his staff, to everyone I encountered at Orlando Health Orlando Regional Medical Center, was truly above par. I describe it as "intentional." It's more than just a job to these people.
Randy
Orthopedic Surgery Patient