"A Lot of Times at Night I Broke Down"
By Dan Tracy, Editorial Contributor
Amanda Grau still has nightmares.
They usually flare up around the anniversary of the Pulse attack or when other shootings are reported around the nation.
"To this day, I wonder why," Grau says.
She had come from her Tampa home on that night in June 2016 to dance with friends at the gay club, only to be terrorized by a gunman in the early-morning hours.
The emergency room of Orlando Health Orlando Regional Medical Center— just a half-mile from Pulse — quickly became inundated with victims. Dr. Chadwick Smith, a board-certified trauma surgeon, was among those on call.
After the June 12 shooting, 44 men and women arrived at the Level One Trauma Center. Of the 35 who arrived alive, all survived.
"You just kind of put your head down and keep going," Dr. Smith recalls of that time.
One of his patients was Grau, who had four gunshot wounds. The most serious was a bullet that slammed into her back and exited underneath her right arm, deflating her right lung and missing an artery by 2 inches. She also was shot in her right leg and ankle.
Dr. Smith removed the bullet and bone fragments from her back, reinflated the lung, staunched the bleeding and sutured the wound, saving her life.
Afraid To Be Alone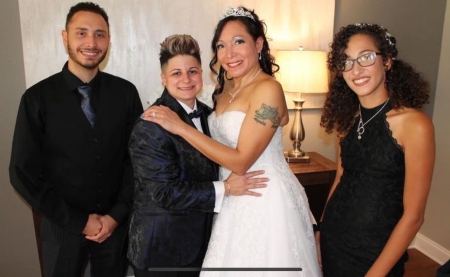 (c)Amanda Grau
Grau, now 38, spent two weeks at Orlando Health, her family often by her side. When they couldn't be there, nurses would take up the vigil. Grau, tormented by the horrors she experienced, was afraid to be alone.
"They were all so wonderful and compassionate," she said. "There were a lot of times at night I broke down."
Her care didn't end once she left Orlando Health ORMC after two weeks. She spent another two weeks at a Tampa hospital near her home and then returned to Orlando for additional plastic surgeries performed by the chief of the Orlando Health Aesthetic and Reconstructive Surgery Institute.
In multiple procedures, he used skin grafts to cover the wound and scarring caused by the gunshot to her back. He cared for Grau again two years ago, when the graft underneath her arm became so uncomfortable that she had trouble sleeping.
Grau says he was especially kind to her. "He always greeted me with a smile," she says, "asked me how I was doing."
"I could commiserate with them," he says. "We are a small community, and there is a feeling of family toward each other."
Counseling Helped Deal with Trauma
Grau underwent physical therapy for a year, relearning how to use her right arm and walk. She also had counseling to help deal with the mental trauma.
One highlight of her recovery occurred September 15, 2016, when she appeared on The Dr. Oz Show, broadcast from New York City. Dr. Oz was discussing the Pulse tragedy with Dr. Smith and four other Orlando Health doctors when he invited Grau onstage to talk about the care she received.
By that time, Grau was able to walk with the aid of a cane. "It was such a good feeling," she says, "to show them that I had come so far.
"I owe all those doctors my life."
Now an EMT, Grau was awarded one of 49 scholarships from the onePULSE Foundation and plans to enroll this fall in an Orlando school to become a paramedic.
She has successfully rebuilt her life, going back to work full-time in February 2017 and marrying Jazmin Espada less than a year later.
The Pulse shooting and the care she received at Orlando Health, Grau says, reconfirmed her commitment to serving others. She works two jobs, as a nurse tech and EMT, sometimes putting in nearly 60 hours a week.
"I love what I do," she says. "I love to help out."