After Delivery, New Mom Struggles To Walk, Care for Baby
By Katie Parsons
First-time mother Martine Holden did her best to prepare for the birth of her daughter: She read all the suggested books, took the recommended classes and created a delivery plan that included her obstetrician and a doula team.
"Zoe is a rainbow baby," says Holden, referring to a baby born after a woman has a miscarriage. "I had waited a long time for her and was 41 when I had her. I did everything I could to make the pregnancy go smoothly."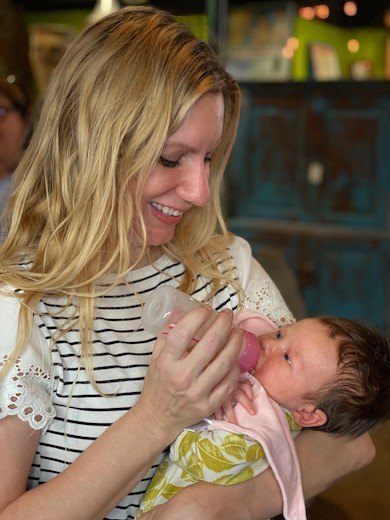 What Holden did not expect was to push for four hours during delivery before Zoe entered the world — just "one push short of a C-section," she says.
As a result, Holden suffered a pelvic floor injury, with damage to her nerves that made it impossible for her to stand, walk or hold her baby.
"I just wanted to hold my baby, and I couldn't even do that without help," Holden says. "I knew the body changes in childbirth, but I also knew that this couldn't be normal."
The pelvic floor includes the muscles, ligaments and connective tissue of the lowest part of the pelvis. It supports a woman's bladder, uterus, vagina, bowel and rectum, and prevents these organs from falling down or out of the body. The pelvic floor also serves important functions for maintaining continence and is crucial for core and pelvic girdle stability.
Though Holden's case was extreme, pelvic floor damage is common in childbirth. One in four women experience pelvic floor disorders, such as bladder incontinence, in the months and years following vaginal delivery of a child, says Dr. Charbel Salamon, chief of urogynecology and reconstructive pelvic surgery at Orlando Health Winnie Palmer Hospital Center for Urogynecology.
"Most pelvic floor injuries can resolve themselves. Some require physical therapy or other courses of treatment to heal," he says.
The Weakness Continues
Since the pain and discomfort following childbirth takes time to heal, Holden and her husband, Jason, took their baby home — but the new mother's mobility issues persisted.
Two weeks after bringing the baby home, Holden called the Orlando Health Rehabilitation Institute and connected with Laura Haynes Lima, a physical therapist specializing in women's health and pelvic floor rehabilitation. Lima was within a few weeks of delivering her own baby when she learned of Holden's issues.
"I knew that this was a special case, and I wanted to get her set up for success before I took my own time off," Lima says. She prescribed physical therapy that focused on strengthening Holden's legs and lower extremities to help her regain mobility quickly.
"Ensuring that she could safely hold and care for her baby was the most pressing concern," Lima says.
It took several more weeks of PT before I could be considered fully independent to care for my baby. . . But it was a dream come true to be walking and carrying my newborn, finally.

– Martine Holden
Within three days of meeting with Lima and completing the suggested physical therapy exercises at home, Holden says she saw "vast improvement." She was now able to pick up, walk with and hold her 3-week-old baby independently for the first time.
"It took several more weeks of PT before I could be considered fully independent to care for my baby, such as taking Zoe somewhere by myself, carrying the car seat or walking stairs confidently," Holden said. "But it was a dream come true to be walking and carrying my newborn, finally."
Holden attended physical therapy sessions in person once a week and completed at-home exercises daily until her daughter was about 1 year old. When Lima returned from her own maternity leave, she and Holden shifted the physical therapy to focus on postpartum rehabilitation, targeting core and pelvic strength, stabilization and overall flexibility.
"Laura and her team built me back up, muscle by muscle," Holden says. "Laura knew exactly what was going on from the time I met with her, and it was a relief to know there was something that could help me."
Looking to the Future
For Holden and her family of three, the support provided by Lima and her team greatly improved their quality of life in the newborn phase and beyond.
"I had no idea that physical therapy played such a role in women's health and postpartum recovery," Holden says. "I feel better than ever. I can laugh hysterically without pain. I can go to yoga class."
Holden hopes to take Zoe on trips to Hawaii, Canada and Europe as she grows older and share adventures as a family.
"Meeting Laura gave me hope. She and her team built me back up," Holden says. "I am forever grateful."