Orlando, FL (November 30, 2022) – The Orlando Health Jewett Orthopedic Institute has received an Honorable Mention in the 2022 American Architecture Awards. The prestigious award recognizes the best new buildings designed and constructed by American architects across the globe, as well as buildings designed and built in the U.S. by international architects.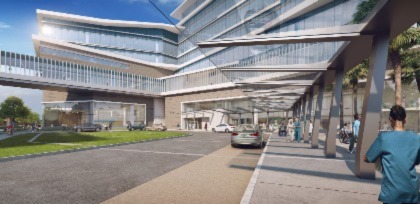 Located on Orlando Health's downtown Orlando campus, the 375,000 sq. ft. Orlando Health Jewett Orthopedic Institute consists of a seven-story orthopedic specialty hospital, ambulatory surgery center and medical pavilion. It's the first facility of its kind in the Southeastern U.S. and will serve patients throughout Florida and the region.
Orlando Health capitalized on the vast knowledge of its physicians and other team members during the design process. Patient safety and experience were at the heart of all decisions to ensure efficient and seamless care.
"We wanted to create a space where patients can receive premier, integrated care in one location," said Carlos Carrasco, president of the Orlando Health Jewett Orthopedic Institute. "We've thought through every square foot of the facility – from technologically advanced patient rooms in the hospital to operating rooms designed to prevent infection."
Orlando Health enlisted EYP, a Page company, to bring the team's vision to life. Page provides architecture, interiors, planning, consulting and engineering services throughout the United States and around the world.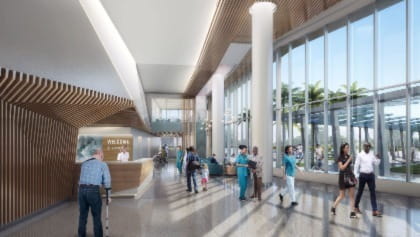 "Incorporating dynamic movement into the architecture was integral to the design, to represent a still animation of the body in motion, reflective of Orlando Health's inherent mission of creating a center of excellence in orthopedics," said Veronique Pryor, senior project director at Page.
The interior of the building is filled with natural light and views of Orlando as the project includes 69,000 sq. ft. of glass. Research shows providing a comfortable and welcoming space can benefit patient recovery and team member well-being.
Skanska USA serves as general contractor on the project. The Orlando Health Jewett Orthopedic Institute will begin welcoming patients in the Spring of 2023.
About Orlando Health
Orlando Health, headquartered in Orlando, Florida, is a not-for-profit healthcare organization with $8.1 billion of assets under management that serves the southeastern United States.
Founded more than 100 years ago, the healthcare system is recognized around the world for Central Florida's only pediatric and adult Level I Trauma program as well as the only state-accredited Level II Adult Trauma Center in Pinellas County. It is the home of the nation's largest neonatal intensive care unit under one roof, the only system in the southeast to offer open fetal surgery to repair the most severe forms of spina bifida, the site of an Olympic athlete training facility and operator of one of the largest and highest performing clinically integrated networks in the region. Orlando Health has pioneered life-changing medical research and its Graduate Medical Education program hosts more than 350 residents and fellows.
The 3,238-bed system includes 23 hospitals and emergency departments – 18 of which are currently operational with five coming soon. The system also includes nine specialty institutes, more than 100 adult and pediatric primary care practices, skilled nursing facilities, an in-patient behavioral health facility under the management of Acadia Healthcare, and more than 60 outpatient facilities that include imaging and laboratory services, wound care centers, home healthcare services in partnership with LHC Group, and urgent care centers in partnership with FastMed Urgent Care. More than 4,000 physicians, representing more than 100 medical specialties and subspecialties have privileges across the Orlando Health system, which employs more than 25,000 team members and more than 1,200 physicians.
In FY22, Orlando Health served nearly 142,000 inpatients and 3.9 million outpatients. The healthcare system provided more than $782 million in total value to the communities it serves in the form of charity care, community benefit programs and services, community building activities and more in FY 21, the most recent period for which this information is available. Additional information can be found at http://www.orlandohealth.com, or follow us on LinkedIn, Facebook, Instagram and Twitter @orlandohealth.