View All Articles
An Emergency Readiness Guide for People with Disabilities
About 20 percent of Americans — or nearly 57 million people — have some form of disability, according to a U.S. Census report.
With Florida's ongoing hurricane season, it's critical that we prepare all Central Florida residents in the event of an emergency, especially those who may need extra help or resources to stay safe.
Here's what you should know:
Don't Forget to Register
If you need transportation assistance in the event of an evacuation or other state emergency or have medical needs that require attention by healthcare providers in a shelter environment, register with the Florida Special Needs Registry as soon as possible.
You can register in several ways, including by visiting the Florida Department of Emergency Management website at www.FLGetAPlan.com, the Orange County Government website at www.orangecountyfl.net, by requesting a form from the Orange County People with Special Needs Program at (407) 836-9319 or by asking your senior social service agency or home healthcare agency to register you.
Orange County has three designated special-needs shelter sites, so registering with the program (and updating your registration every year) will give you access to this information and keep you safe.
Make a Personal Ability Plan
Make a personal ability plan (or work with your caregiver to create one) that outlines what you'll need before, during and after an emergency. The plan also should include a list of your personal needs and the resources you'll have to meet these needs during an emergency. Don't forget to include things such as what communication resources you have (i.e. a cell phone or landline) and a back-up plan since communication technology frequently goes inoperative during an emergency. You may also want to consider whether you need help with personal care and grooming and any adaptive equipment or special utensils and foods necessary for your day-to-day care.
Prepare Important Documents & Items
It is important to plan ahead if you need to go to a shelter site or evacuate to a friend or family member's home. This will prevent the need to go to a hospital rather than a shelter site, as hospitals are unable to offer shelter while caring for actual medical emergencies. To ensure you have everything you need while taking shelter, it is critical that you or your caregiver prepare an emergency kit that includes important documents, medications, wound care, day-to-day necessities and sources of identification, in case you need them. These items should include:
Blanket, pillow, folding chair
Change of clothing and personal toiletries
Identification card (license, state ID, etc.)
Daily prescriptions (two-week supply)
Health insurance information
Medical information card
Medical supplies you need every day, such as any portable oxygen, cannula, diabetes testing kit or nebulizer
Mobile phone charger
Non-perishable food and water (three-day supply)
Non-prescription medicines (two-week supply)
Other important items such as eyeglasses, hearing aids, prosthetic devices, walkers or special dietary foods
Prepare and Properly Store Emergency Supplies
If a weather event doesn't call for an evacuation, but leads to power outages and other inconveniences, your home should be properly prepared.
Buy non-perishable canned foods, batteries, get an appliance thermometer and prepare an emergency water supply. Right before a storm, also buy dry ice to preserve food for longer and plan ahead to purchase a generator in case the power goes out.
List Emergency Contacts & Have a Personal Support Network
Also, maintain a list of three important people to contact in an emergency. This list can be useful to first responders or care providers.
Share this list, copies of important documents and any relevant health information with those on the list and those whom you trust most. Your personal support network can include neighbors, close friends or relatives. Before a storm, check in with these people to make sure they are still available to help and remind them of your plan and where you'll go in case of an evacuation, if they don't live nearby.
Follow this checklist and review it with your caregivers and personal support network. The sooner you prepare, the more successful you will be during a storm. Doing all these things well ahead of time can ensure your safety and that you have the resources you need during an evacuation or major emergency.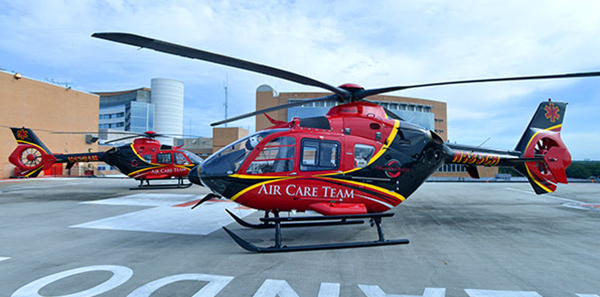 Are you interested in learning more about our Emergency and Trauma Care?
Emergencies can happen anytime, anywhere. Which is why all Orlando Health hospitals are equipped and staffed to handle any emergency situation — big or small. Our team of physicians are all board certified in emergency medicine, and are here for you, 24 hours a day, seven days a week. We are also proud to offer Central Florida's only Level One Trauma Center, located at Orlando Health Orlando Regional Medical Center.
Learn More Here