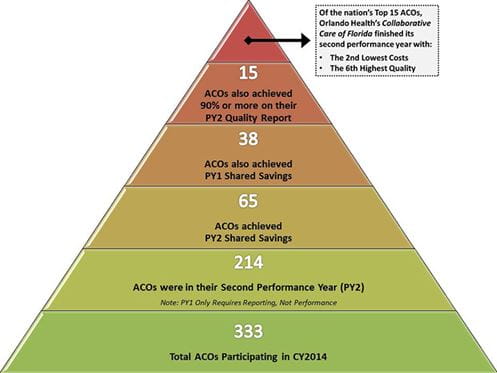 Collaborative Care of Florida, Orlando Health's Accountable Care Organization and the state's first hospital-based ACO, has been invited to participate in a series of CMS webinars featuring ACO success stories, according to Dr. Cynthia Powell, Senior Vice President of Orlando Health. The webinars are scheduled to begin in March.
Based on two years of CMS data for quality and cost outcomes, Collaborative Care is among the 15 highest-performing ACOs in the nation. The goal of ACOs participating in the Medicare Shared Savings Program (MSSP) is to ensure patients, especially the chronically ill, get the right care at the right time, while avoiding unnecessary duplication of services and preventing medical errors. Primary-care providers are scored on 33 quality benchmarks. Achieving both quality and cost targets enables the ACO to share in CMS' savings. It also illustrates how we value exceptional quality and data-driven best practices that result in more efficient spending of healthcare dollars.

In 2014, the most recent year for which data is available, 333 ACOs participated in the federal program. Of those, only 15 had back-to-back savings' success in 2014 and 2013, and delivered 90% or better quality scores.

That's where Orlando Health's ACO landed – with a quality score of 92.57% and the second-lowest per member cost in 2014.