View All Articles
Drowning Prevention: Keeping Kids Safe in and Around Water
The long days of summer are ending, but that doesn't mean we can be less diligent about keeping kids safe around water. From going to siblings' swim practices and lessons to fishing and walking near a lake or just taking a bath, kids can face the danger of drowning.
According to the Centers for Disease Control and Prevention (CDC), drowning is the fifth leading cause of unintentional injury death for people of all ages and the second leading cause of injury death for children 1 to 14 years old. Non-fatal drownings can result in long-term health issues including memory problems, learning disabilities and loss of basic functions.
While these statistics are daunting, we're not advocating avoiding water. It's fun to play in the water at the beach or pool. Swimming provides great exercise and fishing offers great quiet time. A bubble bath can be an inherent part of playtime. But enjoying the water also means being aware of its dangers and knowing how to stay safe.
Enjoying the water also means being aware of its dangers and knowing how to stay safe.
Signs of Drowning
Surprisingly, it only takes seconds for a child to go underwater and two minutes to drown — and it's possible to drown in less than two inches of water. Drowning is often called the "silent killer" because, contrary to popular belief, most people who are drowning don't yell for help because they can't breathe.
Other signs of drowning include:
Slipping below the surface and floating face down for 30 seconds or more
Head tilted back, as children usually instinctively try to keep their airways clear
Arms moving downward, like trying to stand up from a chair
Signs of distress, which may be a precursor to drowning, include clinging to a wall or flotation device, being isolated in the water (i.e. beyond the physical reach of an adult), or treading water but not making progress (this can signal a problem, such as exhaustion or a cramp, even for strong swimmers).
Drowning symptoms include coughing, appearing to struggle breathing, vomiting, lethargy, change in face color or an altered mood. Rarely, a child can show symptoms minutes or even hours or days after they've been submerged. If your child has these symptoms and they don't go away or they get wo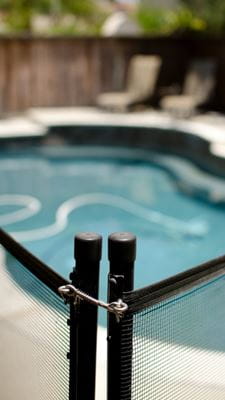 rse, go to your nearest emergency room where they will have the equipment needed to test and treat your child. Doctors will perform a chest X-ray to see if there is fluid in the lungs and may need to provide oxygen or other treatment.
Water Safety 101
No parent wants to think about their child drowning, but drowning prevention is important to know so you can keep your child safe.
Always supervise children when they are near water, whether at the lake or in the bathtub.
When children are in water, stay within physical reach.
Teach children as young as 1 year old to swim.
If you own a pool, install a fence at least 4 feet high all around, with a self-latching, child-proof gate.
Keep your cell phone charged and nearby.
Ensure that children who are in the water and don't know how to swim wear a life jacket.
Check above and below the pool surface to ensure children are safe.
Remember that even children who are experienced swimmers must be supervised.
By understanding water safety and knowing what to look for before and during a drowning episode, you can create an environment where children can enjoy water and stay safe.
Choose to Stay in Touch
Sign up to receive the latest health news and trends, wellness & prevention tips, and much more from Orlando Health.
Sign Up for HealthBeat