View All Articles
How We Say "Thank You" to Team Members Who Deliver Exceptional Patient Experience
As I discussed in a post about The Orlando Health PROMISE last year, our mission is to make every patient's experience at Orlando Health an outstanding one. After all, patient experiences directly affect our reputation both within the community and within the healthcare field. It's why we created the 4343 Line, which anyone who works at the Orlando Regional Medical Center (ORMC) and Orlando Health UF Health Cancer Center can dial to reach one of our patient experience specialists, if they know of a patient who is having a difficult time at our hospital.
One of the primary goals we have for Orlando Health is making sure all team members are fully engaged with the culture and process by which we provide the best possible patient experience. We provide a lot of training on how to look for opportunities to make the experience better for patients and their families, and how to deliver these kinds of experiences.
There are plenty of examples that show how we deliver outstanding patient experiences, but a couple of them really stand out. For example, we recently had a patient who was down because she was going to be in the hospital for her son's 17th birthday. The nurses who were providing care to the patient learned she was a writer, contacted us, and we were able to bring the patient a blank birthday card and some balloons that she could give her son. She delighted in writing him a special birthday message in her own hand.
In another story, we had a patient who had gotten ill while travelling through Orlando on a Greyhound Bus and was brought to our hospital by ambulance for treatment. Unfortunately, her luggage stayed on the bus and ended up in South Florida. Clearly, this was weighing on her mind and causing some stress, so our team was able to jump in, track down her bags and have them delivered to her at the hospital.
So when our team members do go above and beyond to make a patient's experience at Orlando Health an exceptional one, we want to make sure we show them how much we value their dedication.
One of my favorite things we do is the weekly Random Act of Kindness Parade, which we do for team members who have been nominated by their leader for doing something exceptional for a patient. We pull together a small group of people and form a parade that goes to them with all the pomp and circumstance, and then we present them with a small gift. We take a lot of pictures that we post on social media, and give them a fun "crown" to wear while we celebrate their contribution.
Also at ORMC, we recently started a new program whereby, if anyone is complimented by name in one of our patient surveys, we present them with a candy-gram and a hand-written note from the hospital president.
Every year across Orlando Health, we have team celebrations for units that achieve their Patient Experience goals, especially for any unit or department recognized for being in the Top 10 Percent.
In the end, though, it's about being there for our patients. Being in a hospital is stressful enough as it is, whether you're a patient or a family member. At Orlando Health, we are committed to making every patient's experience as positive as we can.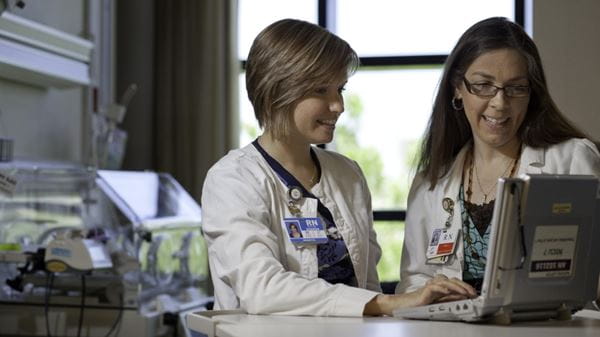 Are you interested in a career at Orlando Health?
Serving 1.8 million Central Florida residents, Orlando Health is one of Central Florida's largest employers. This is where you can find a career with a family of caregivers – each focused on helping our patients. No matter your role, you'll play a part in providing patient-focused care in a supportive, encouraging environment.

Learn More Here