"I'm Here and I'm Alive"
By Lisa Cianci, Editorial Contributor
Tony Marrero raises his left arm, revealing a jagged line of scars. He says it's a miracle that he can move it at all.
"The doctors didn't think they could save it," says Marrero, one of the survivors of the Pulse nightclub shooting in June 2016. "But with physical therapy, I have full movement."
Five years later, Marrero is in a good place.
"People ask me all the time, 'How do you do it?' You just gotta keep going," he says. "I'm here and I'm alive."
That night, which seems so long ago now, started with Marrero and his friend Luis Vielma hanging out at the club south of downtown Orlando. It ended with Vielma shot and killed, and Marrero "playing dead" with the hope he would be spared.
He wasn't.
A Long Recovery
Marrero, who was shot four times in the lower back, was rushed by ambulance to Orlando Health Orlando Regional Medical Center. "So many people were taking care of us at that moment," he says. "They did everything that night to save my life."
One of those people was Dr. Joseph Ibrahim.
He had spent the night before the Pulse shooting trying to save singer Christina Grimmie, who had been shot at The Plaza Live by an obsessed fan. She didn't make it.
"That was heavy on my mind all day Saturday," says Dr. Ibrahim, a board-certified trauma surgeon with Orlando Health Medical Group Surgery. He finally got to sleep, but then the call came: He needed to head back to the trauma center.
Dr. Ibrahim inserted a tube into Marrero's chest to re-expand his collapsed right lung, operated on his back and worked on his arm, where the ricocheting bullets damaged soft tissue.
He remembers telling a resident, " 'He may lose his arm, but he's going to live.' You do your best to take care of that patient while thinking of the bigger picture."
Marrero would end up hospitalized for more than two weeks as he began his recovery, which included a skin graft of his entire left arm and months of physical therapy.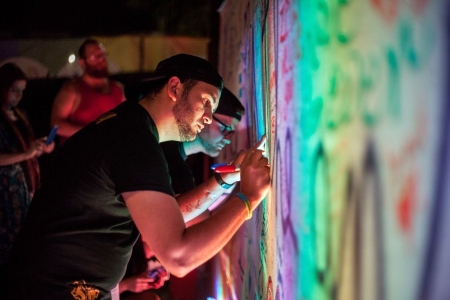 (c)Logan Powaski@loganpowaski
For a while, Marrero was one of the "faces" of Pulse. He went on The Ellen DeGeneres Show, where he told DeGeneres that he coped through his recovery by repeatedly listening to Katy Perry's song "Rise." The singer then surprised him on the show and offered to pay for his first year of film school, a promise she made good on, Marrero says.
He also was featured in the MTV documentary "True Life: We Are Orlando," which aired just two months after the shooting that left 49 people dead.
Moving Forward with Help
"Immediately after everything happened, and I opened my eyes and knew that I was alive, I said, 'My story needs to be shared,' " Marrero says. "I don't want anyone to have to go through this."
His grief didn't fully hit until the year after Pulse, when his friend Luis' birthday approached.
"Even though I was alive, I still had to work through everything that happened," says Marrero, who worked with Vielma at Universal Studios' The Wizarding World of Harry Potter.
Moving forward with his life hasn't been easy, but counseling helped, Marrero says. Dr. Ibrahim, who had seen Marrero a few times for follow-up visits after that night in the trauma center, is glad to hear he prioritized his mental health.
Dr. Ibrahim also sought counseling after Pulse. "We have to speak out and be examples so the next generation understands that it's OK to seek help," he says.
Marrero spent two years studying film at Full Sail University in Orlando but eventually went back to Universal Studios, where is he now a performer playing characters such as Squidward and Patrick from SpongeBob SquarePants.
"To be able to perform now on a daily basis is a true testament to perseverance and resilience and never giving up," he says.
He still fondly remembers the "amazing" nurses who took care of him at Orlando Health ORMC.
One nurse – her name was Marta -- became his second mom. "She would yell at me when I didn't want to do anything because it was very hard to get up from the bed. She'd say, 'Tony, get up!' "
"That kind of bonding saved my life," Marrero says.