By Randy, Knee Replacement patient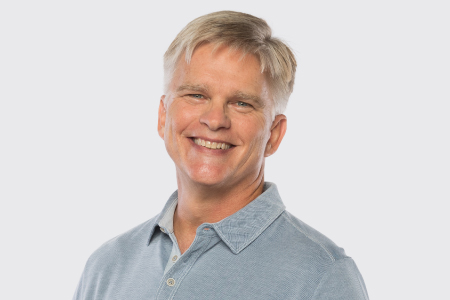 I have always really enjoyed being physically active. I used to play racquetball, water ski, snow ski, snowboard. But over time, I couldn't enjoy those activities anymore because it was just too much for my knee. When it got to the point where I would have to sit out for two days afterward because of the pain, it just wasn't worth it. I kept lowering the level of my activities.
I originally hurt my knee playing football way back in my sophomore year of high school. Back then they just did X-rays, and since they didn't see anything wrong, I just kept playing on it, along with participating in other sports, like track.
Over the years, I've had two arthroscopic surgeries to clean out the meniscus. But the pain was gradually worsening over time, and my active lifestyle didn't help. By the time I was 55, even joining my wife for bike rides and low impact exercise classes became too much. So, I adjusted again. But then it got to the point where I couldn't even walk a mile with the dog anymore because of the pain. I knew it was time to do something.
We knew of Dr. Robert Murrah (Dr. Bobby) with the Orlando Health Orthopedic Institute Orthopedic and Sports Medicine Group through a good friend, who had a double knee replacement. Her high praise and recommendation left no doubt that he was the doctor for me. And I liked Dr. Bobby's approach, because he didn't immediately say "we need to replace your knee." I liked that because I really wasn't considering surgery at that point. I didn't think I was old enough for that. So, I was hoping they could clean it up a little bit and I'd get 10 or 15 more years out of it. But it turned out that was not to be.
Dr. Bobby prescribed cortisone and physical therapy to start with. But the follow-up X-rays and CT scan showed that, because of how long my knee had been damaged, there was virtually no meniscus left. It was pretty much bone on bone. There also was some arthritis there. That explained the depth of the pain.
Dr. Bobby sat down with me and explained the situation. He told me, "I'm not telling you to replace it. I'm just telling you if you want to be able to do some things that you used to be able to do again, that's an option we need to really consider." And so, I did.
While I trusted Dr. Bobby completely, I was still nervous about having the surgery. Dr. Bobby did a great job of describing what was going to happen, without being too graphic for a wimp like me. Plus, I knew he had done hundreds of knee replacements, and I knew what he had done for our friend, so I was good.
I've been able to get back to walking and biking — even spin class — without any pain. I also enjoy putting my golf clubs to use now and then.

– Randy, Knee Replacement Patient
As the pre-surgical process began, Dr. Bobby and his physician assistant did a very good job of further walking me through what was going to happen from the surgery standpoint and what to expect in rehab. And then, the whole process we went through with his staff was awesome. They were fantastic in explaining what I needed to do and where I needed to be throughout. So, I always felt informed; I never felt as if I was in the dark. From that perspective, it was easy going into the surgery.
My surgery was originally scheduled for March 2018. I was a little concerned about the timing, because my wife and I were going on a trip to Italy with friends in June. I was worried if I would have enough time to fully recover. When a cancellation allowed them to move up my surgery, they were able to have everything ready with just a week's notice.
So, in February 2018, I went in for knee replacement surgery at Orlando Health Orlando Regional Medical Center (ORMC). And overall, I have to say, it was great. The whole team was very attentive, and they kept me informed of what was going on. I only had to stay one night, but they got me up and moving around pretty quickly, so they could make sure I was doing everything I needed to be doing before being discharged. And they also made sure I (and my wife) knew and understood all the things I needed to do when I got home.
And after my scheduled physical therapy program, I was ready and able to go on our trip to Italy in June as planned. We had to do a lot of walking on that trip, and while I may have felt a little stiff by the end of the day (but, who didn't!), I had no trouble keeping up. And since, I've been able to get back to walking and biking — even spin class — without any pain. I also enjoy putting my golf clubs to use now and then.
My other knee is fine, so while I hope I won't have to have another knee replacement, I would certainly go back to Dr. Bobby if I had to. I will definitely recommend him to anybody I know who has any kind of orthopedic issues. In fact, my 24-year-old daughter is having some knee problems, and I feel completely confident in sending her to see Dr. Bobby.
The quality of the care I received, from Dr. Bobby and his staff, to everyone I encountered at Orlando Health ORMC, was truly above par. I describe it as "intentional." It's more than just a job to these people. They are truly interested in my well-being and are genuine in their desire to make sure I had everything I needed and was doing what I was supposed to be doing. All through the whole process, so many people stopped and took the time to talk to me, to make sure I was doing okay. You just can't beat that level of care.