By Julie Vargo, Editorial Contributor
When it comes to prioritizing his health, Zach Hoover is an outlier. At a time when more than half the men in America find excuses to avoid the doctor's office, the Central Florida father religiously schedules his annual physicals and routine screenings – then actually shows up.
Hoover hasn't always been this health conscious. The mind-shift occurred three years ago when he unexpectedly lost his father to bladder cancer.
"I was always terrified of doctors and bloodwork," says Hoover, age 39, who's on the government affairs team at Orlando Health. "But I learned some important lessons from my father's death – like how a man's health impacts everyone around him and the importance of getting regular checkups."
In 2017, Hoover flew to Georgia with his wife and two young children to enjoy the Easter holiday with his parents, Dick and Jayne. "Dad picked us up at the airport, loaded up the car, and took us to their house," he says. "After dinner, Dad shared popsicles on the deck with my three-year-old son, which was their tradition. Everything seemed normal."
Following an Easter egg hunt the next day, the situation shifted. Exhausted from the festivities, Dick climbed into bed mid-afternoon. "That was so unlike him," says his son. "But what we didn't realize is it was the beginning of the end. Dad never really got out of bed again."
Nagged to see a doctor, Dick Hoover was diagnosed with late-stage bladder cancer. Less than three months later, he was gone. A lifelong smoker until his sixties, the 74-year-old grandfather was otherwise in good health.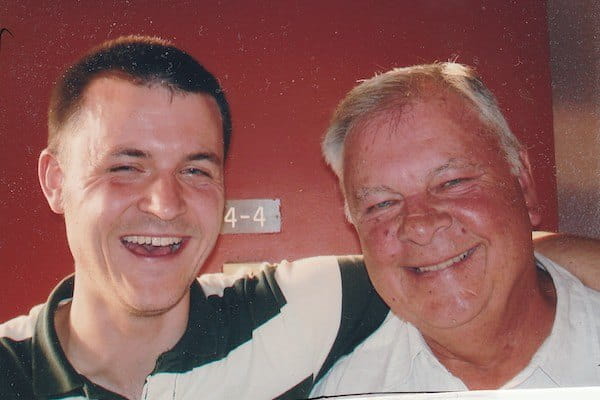 A Family Left to Wonder
The family still wonders why the elder Hoover didn't see a doctor sooner. According to the American Cancer Society, smokers are at least three times more likely to get bladder cancer than non-smokers. Symptoms can include blood in the urine, lower back pain, problems urinating, weight loss and feeling tired or weak. Caught early, bladder cancer is highly treatable. But even with twice-yearly blood work and primary care visits, Dick's bladder cancer remained hidden until it was too late.
"Dad was a 'we don't need to worry anyone about this' kind of guy," says his son. "So I wonder if he had painful symptoms and did not investigate, or took comfort in good blood work results as an excuse not to."
His father's passing pitched Hoover into what he calls an early-onset midlife crisis. He returned from the funeral to quit his job, pack up his family and move from Philadelphia to Central Florida to be closer to his widowed mother. Along the way, he shifted his own health and wellness to priority status.
"We had all these plans," says Hoover. "My family was just getting started. Our kids are little. We were talking about all these adventures we would have traveling together with Mom and Dad. I just took it for granted my dad would be around for all of it. He was a wonderful grandfather. And my mom wasn't ready to be a widow."
Why Men Avoid the Doctor's Office
Dick Hoover isn't unusual. According to a 2016 survey commissioned by Orlando Health, most men avoid seeing a doctor, especially for annual checkups. Being busy tops the list of excuses men use, followed by fear of finding out something may be wrong, embarrassment and discomfort with certain physical exams, like prostate checks.
Yearly physicals often catch issues like high cholesterol, elevated blood sugar or hypertension early enough to slash the risk for diabetes or cardiovascular disease. Investigating small lumps or other symptoms promptly helps circumvent big health problems later. Yet 22 percent of the men surveyed said they were too busy for annual checkups.
Busyness is no excuse for bypassing health checks. "You make time for things that are a priority," says Hoover, who searches out doctors willing to make early morning appointments before he goes to work. "You can't put a value on what you would miss if you left a medical issue until it was too late."
Fighting Fear and Embarrassment
Fear the doctor will find something seriously wrong is an excuse used to circumvent checkups by 21 percent of men surveyed. "You know what's worse than being frightened you might have cancer?" says Hoover. "Finding out you have stage 4 cancer and it's too late to do something about it because you put off going to the doctor.
"I have a horrible fear of getting blood drawn. Paralyzing. Complete with panic attacks. But after my father died, I knew I had to do something because a lot of information comes from bloodwork. I finally shared my fears with my doctor. Now he gives me Valium before blood draws. Problem solved."
Embarrassment and uncomfortable exams keep 18 percent of men away from the doctor's office. "Men of my father's generation didn't talk about urinary tract issues," says Hoover. "Imagine if they had. Being embarrassed or uncomfortable is a small price to pay for an increased chance of survival. Being there, being present and being alive … that is more important than being embarrassed."
What Would My Family Want?
When wrestling with the decision of seeing a doctor for whatever reason, Hoover suggests men imagine what their partner and kids would want them to do. Then simply do that. Your family will appreciate it.
"There was a richness to the way my dad lived his life that my children will never get to experience," says Hoover, whose own grandparents died before he was born. "Dad loved people, traveling, cooking, laughing and telling stories. He had a way of lighting up a room. I'm heartbroken my kids will miss out on knowing him and hearing those stories.
"And I will always wonder whether he had been suffering and, if so, why he didn't see a doctor sooner."