View All Articles
Melinda and Paxton's Journey to Becoming a Pet Therapy Team
My journey to becoming a Pet Therapy Team started after I began volunteering at Orlando Health. I decided to donate my time to the organization because it was close to home, and I had family members who had been patients at Orlando Regional Medical Center. I knew that one day I would want to work at Orlando Health so I thought volunteering would give me a better idea of what the organization is like.
One day, my volunteer manager at the time asked if I liked dogs, and if I'd be interested in following a Pet Therapy Team for a day. After expressing interest in the program, I was assigned to follow Pet Therapy Team, Carol and Molly. Carol and I quickly became friends, and she always told me that she was sure one of my dogs would be able to join the Pet Therapy effort.
After some time with Carol and Molly, I got the routine down of how the program works and chose to have my sweet dachshund, Paxton, tested with the Alliance of Therapy Dogs. Paxton passed without any issue, so together we interviewed at Orlando Regional Medical Center for a position as an official Orlando Health Pet Therapy Team.
My manager really liked Paxton, so we started to shadow Carol and Molly together. At first, Paxton was a little timid and nervous walking through the hospital halls and meeting with different team members, patients and their families. Now, Paxton loves heading out for our shifts at ORMC and different events. We enjoy making people's day and being the reason why they smile. After volunteering at ORMC for a while, Carol had recommended that Paxton take the Canine Good Citizen program. So without hesitation, I signed Paxton up, and he passed!
Walking around the campus and having people recognize Paxton by name and stop to greet him really makes the job fun. We love passing out Pet Therapy cards and taking pictures with anyone who asks. Volunteering at Orlando Health definitely showed me that I really do enjoy working here. Now, I've been working as a volunteer for six years, Paxton has been a part of the team for four, and I've been employed as a paramedic for five years!
Being a rescue, Paxton just has a calm and sweet personality that is the perfect fit for Pet Therapy. We look forward to continuing working together to make people feel better.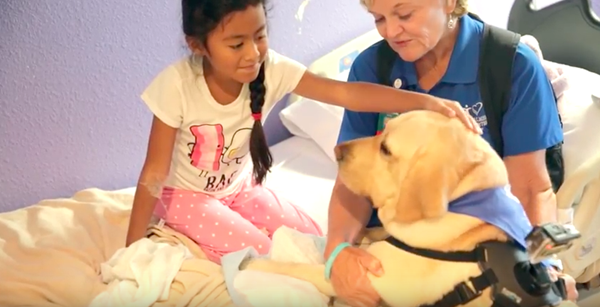 Are you interested in learning more about Orlando Health's Pet Therapy Program?
We are grateful for our pet therapy volunteers and their dogs. We currently have 60 pet therapy teams visiting patients at 6 different Orlando Health hospitals. If you are an Orlando Health patient or family member and would like a visit from one of our loving therapy dogs ask your nurse to submit a request to the Volunteer Services office.

Learn More Here
How Weight and Height Can Affect Your Prostate Cancer Risk
Should I go to the ER or Urgent Care?