Orlando Health Medical Group's Dr. Edgar Sanchez named fellow by Infectious Diseases Society of America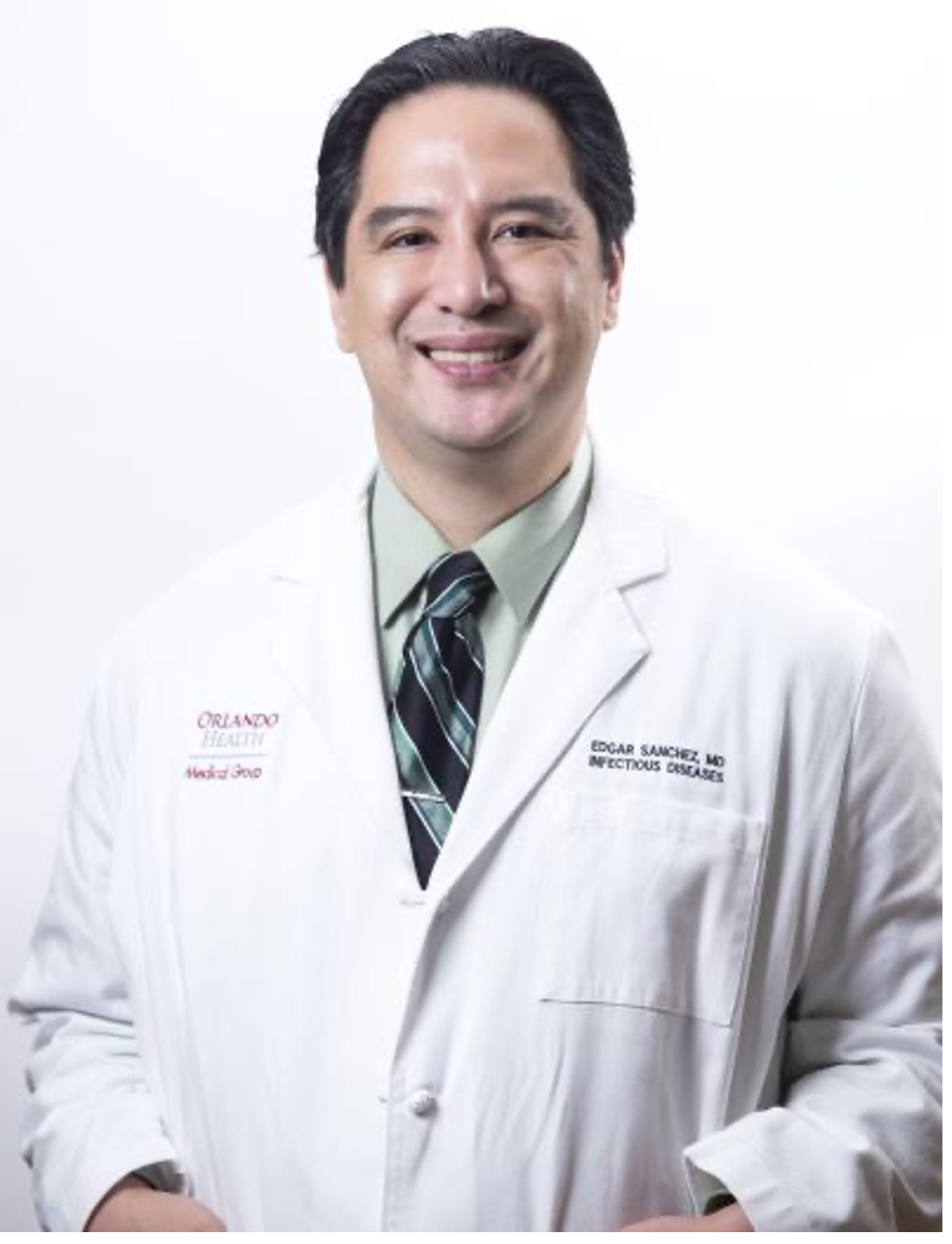 Orlando, FL (October 25, 2023) Edgar Sanchez, MD, vice chief of staff, Orlando Health South Seminole Hospital, has been named a fellow by the Infectious Diseases Society of America, one of the highest honors in the field of infectious diseases.
Dr. Sanchez joins three other Orlando Health Medical Group doctors – Patricia Couto, MD, Aixa Curbelo-Irizarry, MD and Antonio Crespo, MD – to be recognized among distinguished physicians and scientists from the U.S. and around the world who have achieved professional excellence and provided significant service to the profession.
"This is a great achievement for Dr. Sanchez," said Antonio Crespo, MD., managing physician, Orlando Health Medical Group Infectious Diseases. "Since arriving to Orlando Health, Dr. Sanchez has distinguished himself as a great physician who exhibits not only amazing clinical skills but also a great commitment to improve quality and efficiency in the organization. Becoming a fellow of IDSA is a great honor in our specialty."
Dr. Sanchez is one of 219 fellows chosen in 2023, who were nominated by their peers and met specified criteria that included continuing identification with the field of infectious diseases and national or regional recognition and publication of their scholarly work.
Dr. Sanchez earned his medical degree from Saint George's University School of Medicine in Grenada. He completed his internal medicine residency at Drexel University in Philadelphia, followed by a fellowship in infectious diseases at Tufts Medical Center in Boston.
Dr. Sanchez was the lead author of a 2016 systemic review about the diagnosis, treatment and prevention of Lyme disease, human granulocytic anaplasmosis and babesiosis for JAMA, an international peer reviewed medical journal. He has a Master of Science in Computational Biology, with proficiency in several computer programming languages, and a Master of Science in Clinical and Translational Research from Tufts University.
About Orlando Health
Orlando Health, headquartered in Orlando, Florida, is a not-for-profit healthcare organization with $9.2 billion of assets under management that serves the southeastern United States and Puerto Rico.
Founded more than 100 years ago, the healthcare system is recognized around the world for Central Florida's only pediatric and adult Level I Trauma program as well as the only state-accredited Level II Adult Trauma Center in Pinellas County. It is the home of the nation's largest neonatal intensive care unit under one roof, the only system in the southeast to offer open fetal surgery to repair the most severe forms of spina bifida, the site of an Olympic athlete training facility and operator of one of the largest and highest performing clinically integrated networks in the region. Orlando Health has pioneered life-changing medical research and its Graduate Medical Education program hosts more than 350 residents and fellows.
The 3,888-bed system includes 29 hospitals and emergency departments – 24 of which are currently operational with five coming soon. The system also includes nine specialty institutes, more than 100 adult and pediatric primary care practices, skilled nursing facilities, an in-patient behavioral health facility under the management of Acadia Healthcare, and more than 60 outpatient facilities that include imaging and laboratory services, wound care centers, home healthcare services in partnership with LHC Group, and urgent care centers in partnership with FastMed Urgent Care. More than 4,750 physicians, representing more than 100 medical specialties and subspecialties have privileges across the Orlando Health system, which employs more than 27,000 team members and more than 1,200 physicians.
In FY22, Orlando Health served nearly 142,000 inpatients and 3.9 million outpatients. The healthcare system provided more than $782 million in total value to the communities it serves in the form of charity care, community benefit programs and services, community building activities and more in FY 21, the most recent period for which this information is available. Additional information can be found at http://www.orlandohealth.com, or follow us on LinkedIn, Facebook, Instagram and Twitter @orlandohealth.