Pharmacy coming soon
Orlando, FL (January 31, 2022) Orlando Health Cancer Institute – St. Cloud celebrated the phased opening this month of the first comprehensive cancer center in the city.
The 7,200-square-foot facility, housed within Orlando Health Medical Pavilion – St. Cloud, features six exam rooms, a consultation room and an in-house lab.
"Orlando Health Cancer Institute is nationally recognized for the superb cancer and hematology care we give patients," said Margo Shoup, MD, president of Orlando Health Cancer Institute. "We are excited to have the opportunity to offer this great care to the St. Cloud community so that patients can stay as close to home as possible, while being treated with the expertise they would expect from Orlando Health."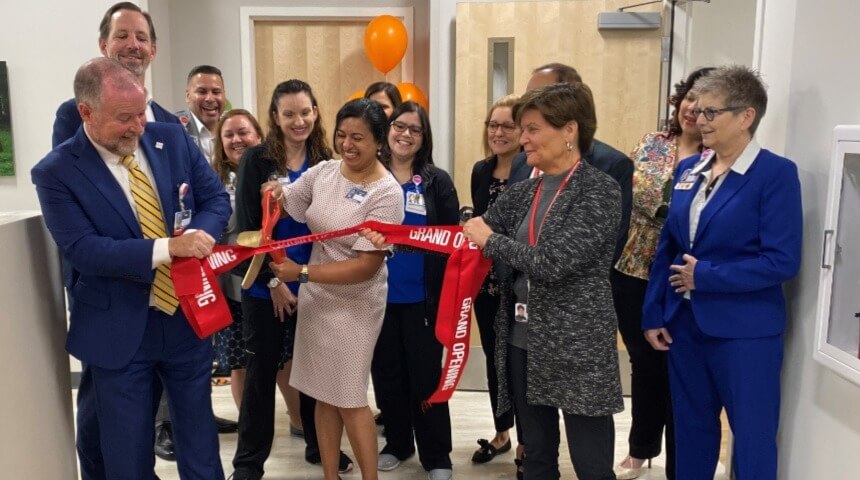 Patients who need chemotherapy, immunotherapy or IV therapy began receiving infusions in 10 semi-private bays, which opened this month. Two private infusion bays and a pharmacy are set to open in summer 2023.
"At the Orlando Health Cancer Institute in St. Cloud, you get the benefit of the entire hospital system," said Simi George, MD, lead oncologist at the facility. "You get access to state-of-the-art surgery, access to clinical trials – all the things you would get at a big cancer center, with the bulk of the treatment being delivered close to home."
Patients will have access to resources and support services, including nutritional care, counseling, pain management, palliative care and cancer support groups.
Orlando Health Cancer Institute – St. Cloud is the organization's fifth regional oncology facility, including Osceola and others in Lake Mary, Ocoee, and Orlando's Dr. Phillips-area.
About Orlando Health
Orlando Health, headquartered in Orlando, Florida, is a not-for-profit healthcare organization with $8.1 billion of assets under management that serves the southeastern United States.
Founded more than 100 years ago, the healthcare system is recognized around the world for Central Florida's only pediatric and adult Level I Trauma program as well as the only state-accredited Level II Adult Trauma Center in Pinellas County. It is the home of the nation's largest neonatal intensive care unit under one roof, the only system in the southeast to offer open fetal surgery to repair the most severe forms of spina bifida, the site of an Olympic athlete training facility and operator of one of the largest and highest performing clinically integrated networks in the region. Orlando Health has pioneered life-changing medical research and its Graduate Medical Education program hosts more than 350 residents and fellows.
The 3,238-bed system includes 23 hospitals and emergency departments – 18 of which are currently operational with five coming soon. The system also includes nine specialty institutes, more than 100 adult and pediatric primary care practices, skilled nursing facilities, an in-patient behavioral health facility under the management of Acadia Healthcare, and more than 60 outpatient facilities that include imaging and laboratory services, wound care centers, home healthcare services in partnership with LHC Group, and urgent care centers in partnership with FastMed Urgent Care. More than 4,000 physicians, representing more than 100 medical specialties and subspecialties have privileges across the Orlando Health system, which employs more than 25,000 team members and more than 1,200 physicians.
In FY22, Orlando Health served nearly 142,000 inpatients and 3.9 million outpatients. The healthcare system provided more than $782 million in total value to the communities it serves in the form of charity care, community benefit programs and services, community building activities and more in FY 21, the most recent period for which this information is available. Additional information can be found at http://www.orlandohealth.com, or follow us on LinkedIn, Facebook, Instagram and Twitter @orlandohealth.