Orlando Health Celebrates Excellence in Nursing
An outstanding group of 40 nurses were awarded with the Nursing Excellence Award at a special reception held at ORMC on May 6 during Nurses Week. Joined by family and guests, this year's Nursing Excellence Award recipients were honored with an engraved award presented by their chief nursing officer. While each honoree was recognized, stories of how they made a difference in the lives of patients were shared with the audience.
The Nursing Excellence Award is given annually to recognize and reward excellence in nursing practice. Team members and physicians nominated nurses for demonstrating exemplary practice that is focused on safe, quality care and process improvements, and care that seeks to match nursing competencies to the needs of patients.
Congratulations to the 2016 Nursing Excellence awardees!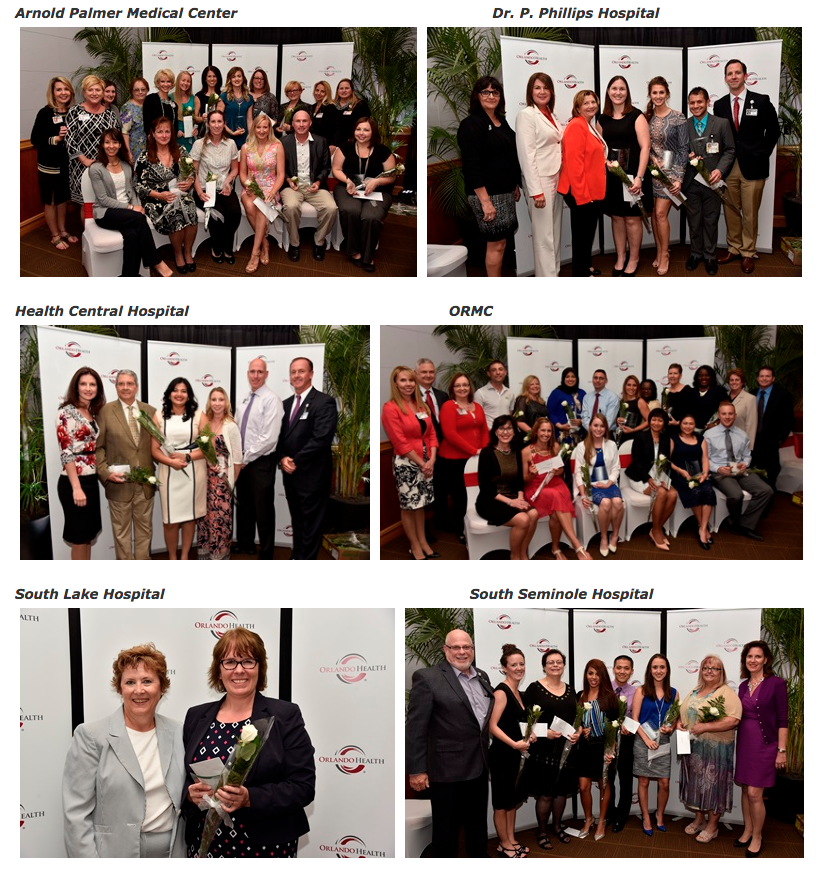 2016 Nursing Excellence Awardees
Gabriela Alvarez Sanchez, BSN, RN South Seminole Hospital
Donovan Bacuyag, BSN, RN Dr. P. Phillips Hospital
Susan Bartlett, BSN, RN, CCM Health Central Hospital
Julie Bell, BSN, RN, OCN UF Health Cancer Center at Orlando Health
Christina Britt, BSN, RN, PCCN, CCRN Dr. P. Phillips Hospital
Salvatore Cimbalo, BSN, RN, CMSRN Health Central Hospital
Sarah Conroy, ASN, RN, CLC Arnold Palmer Medical Center
Arlin Dayrit, BSN, RN, CEN South Seminole Hospital
Martha DeCesere, MSN, RN South Lake Hospital
Tracey Duffendack, BSN, RN, PCCN Orlando Regional Medical Center
Erika Fenimore, MSN/Ed., RN, CPN Arnold Palmer Medical Center
Emily Forbes, BSN, RNC-NIC Arnold Palmer Medical Center
Donna Frankowski, ASN, RN-BC South Seminole Hospital
Sharon Gustavsson, BSN, RN Dr. P. Phillips Hospital
Maryam Hemmali, BSN, RN, ONC Orlando Regional Medical Center
Connie Johnson, BSN, RNC-OB Arnold Palmer Medical Center
Deanna Julson, BSN, RN, CCRN South Seminole Hospital
Chris Kolb, BSN, RN, CRRN Orlando Regional Medical Center
Valerie Lapp, PhD, RN, CPN Arnold Palmer Medical Center
Jennifer Lesowitz, BSN, RN Arnold Palmer Medical Center
Ma Aleta Lael Louh, BSN, RN, PCCN Orlando Regional Medical Center
Karitsha Martinez Octaviani, MSHA, BSN, RN, CCRN Orlando Regional Medical Center
Sarah McDonald, BSN, RN, PCCN Orlando Regional Medical Center
Alicia Mohamed, BSN, RN Health Central Hospital
Kimone Moncrieffe, BSN, RN-BC Dr. P. Phillips Hospital
Shannon Mulrooney, BSN, RN, OCN Dr. P. Phillips Hospital
Cody Pigon, BSN, RN, PCCN Orlando Regional Medical Center
Audrey Poyaoan, BSN, RN Orlando Regional Medical Center
Elaine Richardson, ASN, RN Arnold Palmer Medical Center
Kristen Romano, ASN, RN, PCCN South Seminole Hospital
Michelle Rudman, BSN, RN Orlando Regional Medical Center
Joanne Simmons, MSN, RN-BC Orlando Regional Medical Center
Patricia Simmons, BSN, RN South Seminole Hospital
Jennifer Spinelli, BSN, RN, CPAN Arnold Palmer Medical Center
Laurie Staup, BSN, RN, PCCN Orlando Regional Medical Center
Eton Stebbins, BSN, RN, CGRN Orlando Regional Medical Center
Donna Sweeney, LPN Arnold Palmer Medical Center
Jared White, ASN, RN, CNOR Arnold Palmer Medical Center
Aleen Williams, BSN, RN Orlando Regional Medical Center
Devon Yates, MSN, RN, CNML Health Central Hospital