Lake Mary now has a new emergency room and medical pavilion
Lake Mary, FL (September 13, 2019) – Access to emergency health care will soon be easier for residents living in central and north Seminole County thanks to Orlando Health's newest Orlando Health Emergency Room and Medical Pavilion - Lake Mary, which is scheduled to begin seeing patients on Monday, September 16.
To signal the opening of this new facility a ribbon cutting ceremony was held on Sept. 12 with Orlando Health team members, City of Lake Mary officials including Lake Mary Mayor David Mealor and other dignitaries. Thursday's event at the $69 million campus located off Interstate 4 at 380 Rinehart Road, unveiled a 25-room ER that can manage a majority of emergencies from minor trauma to broken bones.
"Our goal is to plan for the future and to make health care more accessible to tens of thousands of Seminole County residents," said David Strong, president and CEO of Orlando Health. "Orlando Health team members and physicians provide exceptional care in an exceptional way. Orlando Health's newest Lake Mary facility will continue to improve this area's health and quality of life."
Development of the two-story, 40,000 square-foot emergency department and the adjacent three-story, 60,000-square-foot medical pavilion began in June 2018. In addition to the 25 treatment rooms, the Lake Mary facility boasts an imaging department, outpatient pharmacy and lab draw station. Patients will also have access to a full ambulatory service and a helipad where those requiring a higher level of service can be transported to Orlando Health South Seminole Hospital in Longwood, the Orlando Health facility with which this new site is affiliated.
The medical pavilion will offer several specialties including, pulmonology, pediatrics, obstetrics and gynecology, urology, orthopedics, general surgery, cardiology, and cardiac rehab.
"Today's ceremony highlights — and is a tangible reminder of — our mission to improve the health and quality of life of the individuals and communities we serve," said Shawn Molsberger, president of South Seminole Hospital. "I am confident that this facility will play a significant role not only in the social and economic vitality of this city and the entire county, but also it will deliver much-needed medical services to the population in the immediate future, and in years to come."
Mayor Mealor, who also spoke at the ceremony, stated "This is a remarkable day for the residents of Lake Mary and the surrounding area. Orlando Health is a recognized leader in the delivery of exceptional health care. The opening of this new 40,000 square-foot emergency department and 60,000-square-foot medical pavilion represents more than economic development, it represents an enhanced quality of life and health care for so many. The City of Lake Mary is honored to partner with Orlando Health and we welcome its outstanding team of dedicated professionals."
The current facility will create approximately 100 jobs. The second phase of this campus is already in development with the construction of a hospital expected to begin in the spring of 2020.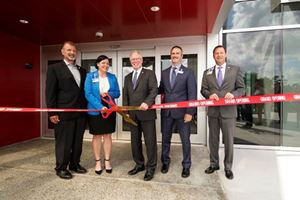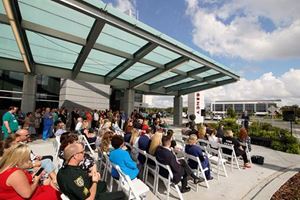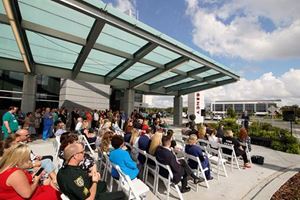 About Orlando Health
Orlando Health is a $3.8 billion not-for-profit healthcare organization and a community-based network of hospitals, physician practices and outpatient care centers across Central Florida. The organization is home to the area's only Level One Trauma Centers for adults and pediatrics, and is a statutory teaching hospital system that offers both specialty and community hospitals. More than 3,100 physicians have privileges across the system, which is also one of the area's largest employers with more than 20,200 employees who serve more than 97,000 inpatients, more than 2.5 million outpatients, and more than 4,800 international patients each year. Additionally, Orlando Health provides more than $360 million in total value to the community in the form of charity care, community benefit programs and services, community building activities and more. Additional information can be found at www.orlandohealth.com.
# # #