New facility will provide world-class imaging and diagnostic care
Orlando, FL (October 12, 2020) – Orlando Health has opened a new consolidated and expanded imaging center in Ocoee, which will enhance access to world-class specialized diagnostic imaging for those living in West Orange County and the nearby communities. The Orlando Health Imaging Centers – Ocoee officially opens to the public on Oct. 19.
"As the fastest growing city in Orange County, we're thrilled to have these imaging services available to our residents," said Ocoee Mayor Rusty Johnson. "I am certain that the Orlando Health Imaging Centers – Ocoee will become an integral part of our healthcare network."
The 5,500 square-foot facility, located at 10889 W. Colonial Dive, offers a complete line of diagnostic imaging services to include Mammography, Ultrasound, Bone Density, X-ray, CT and MRI. As with all Orlando Health Imaging Centers, the Ocoee location is supported by the Medical Center Radiology Group and its board-certified specialty radiologists who interpret all imaging scans. Due to the seamless relationship between Orlando Health and Orlando Health Imaging Centers, referring physicians will continue to have full and quick access to all diagnostic information needed to support clinical decision-making and treatment regardless of location.
"This new diagnostic imaging center's advanced imaging technology and efficient layout delivers an ideal setting for us to provide exceedingly high-quality care," stated Dr. Wei-Shen Chin, president of MCRG.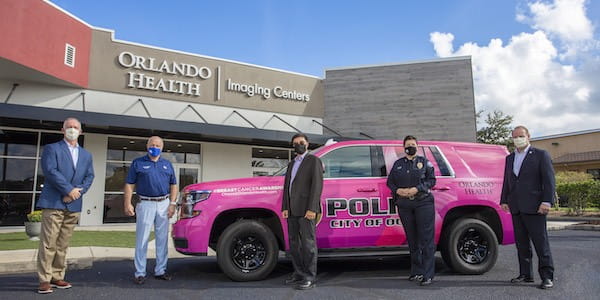 To celebrate the opening and commemorate Breast Cancer Awareness Month, a ribbon cutting ceremony was held on Oct. 9. A pink ribbon was placed on the door to greet patients during the month of October and a pink-wrapped cruiser from the Ocoee Police Department was part of the activities. This vehicle, along with many other law enforcement and fire-rescue vehicles across Central Florida, have been wrapped in pink by Orlando Health to raise awareness of the disease throughout the community.
"Today is truly special," said Greg Ohe, senior vice president, Ambulatory Services, Orlando Health. "Not only are we able to open our expanded, full-service imaging center to supports the imaging needs of patients throughout this community, but we were able to do so during Breast Cancer Awareness Month. This opening should serve as a reminder for all in need of a screening mammogram to have this life-saving scan done as soon as possible."
The other six Orlando Health Imaging Centers are in Altamonte Springs, Lake Mary, Spring Lake, Summerport, Winter Park and on Orange Avenue in downtown Orlando.
About Orlando Health
Orlando Health, headquartered in Orlando, Florida, is a not-for-profit healthcare organization with $6.5 billion of assets under management that serves the southeastern United States. Founded more than 100 years ago, the healthcare system is recognized around the world for its pediatric and adult Level One Trauma program as well as the only state-accredited Level Two Adult and Pediatric Trauma Center in Pinellas County. It is the home of the nation's largest neonatal intensive care unit under one roof, the only system in the southeast to offer open fetal surgery to repair the most severe forms of spina bifida, the site of an Olympic athlete training facility and operator of one of the largest and highest performing clinically integrated networks in the region. Orlando Health is a statutory teaching system that pioneers life-changing medical research. The 3,200-bed system includes 15 wholly-owned hospitals and emergency departments; rehabilitation services, cancer and heart institutes, imaging and laboratory services, wound care centers, physician offices for adults and pediatrics, skilled nursing facilities, an in-patient behavioral health facility, home healthcare services in partnership with LHC Group, and urgent care centers in partnership with CareSpot Urgent Care. Nearly 4,200 physicians, representing more than 80 medical specialties and subspecialties have privileges across the Orlando Health system, which employs nearly 22,000 team members. In FY19, Orlando Health served nearly 150,000 inpatients and nearly 2.7 million outpatients. During that same time period, Orlando Health provided more than $760 million in total value to the communities it serves in the form of charity care, community benefit programs and services, community building activities and more. Additional information can be found at http://www.orlandohealth.com.