By Orlando Health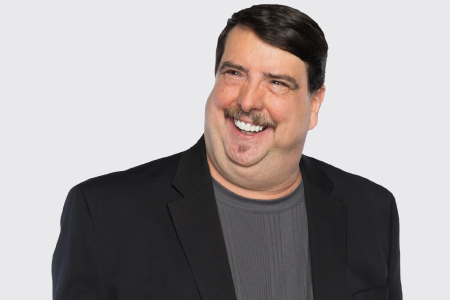 Jim is what you might call a Renaissance man. A former youth and education minister, and current professional speaker, he leads conferences on business strategy from Tennessee to Toronto. But when not influencing big changes in businesses, Jim likes to think a bit smaller as a card-carrying member of his local model railroading club. He has spent hours at enthusiast shows and meetups, helping get his club's highly detailed models just right.
Sidelined by Spine Degeneration
It wasn't rare for Jim's legs to numb after hours on his feet at speaking engagements or model railroad meetups. But what was once a mild annoyance quickly turned frightening for the raconteur and model railroad enthusiast after he lost total control of his knees at an event. Jim fell and broke his leg, but the numbness was so intense that he didn't realize it was broken for two weeks. Soon, the numbness would sideline Jim after only 10 minutes of standing—then only five. He was forced to start hiding a chair behind his speaking podium, skipping model railroad events and, worst of all, missing out on quality time with his wife.
Whatever this was, Jim needed answers to get his life back on track.
After meeting Dr. Virgilio Matheus at Orlando Health Neuroscience Institute, he received an MRI scan that uncovered the truth. Jim's back had significant signs of degeneration. He was suffering from lumbar scoliosis and spinal stenosis. "Dr. Matheus sat me down with my results and asked me a few questions. Then, he told me, 'I can fix this.'" True to his word, Dr. Matheus did just that.
I have no pain and no tingling. In fact, I stood at an annual model train show for four
hours with absolutely no issue.

– Jim, Minimally Invasive Spine Surgery Patient
Jim's issue was addressed with minimally invasive robotic spine surgery using the ExcelsiusGPS® system which combines image-guided navigation technology with a robotic arm that allows the surgeon to very accurately place implants used in spine surgery through small incisions. The increase in accuracy means less time in surgery.
Getting Back on Track with Minimally Invasive Robotic Surgery
After a minimally invasive robotic spine surgery and an effective rehabilitation plan, Jim's recovery could not have been more successful. "I have no pain and no tingling. In fact, I stood at the 68th Annual Model Train Show and Sale for four hours with absolutely no issue." Just months after debilitating numbness put the brakes on his personal and professional life, he was back to full speed.
Being a man of faith, Jim gives thanks to God for leading him to Dr. Matheus. He felt it was only appropriate that he found help at Orlando Health, where his great- grandparents had donated to the expansion of the Orange Memorial after his great-grandfather received great treatment at the hospital.
Today, Jim is leading conferences with confidence, enjoying his hobby surrounded by friends and, finally, back to enjoying life with his wife. Thanks to industry-leading, minimally invasive robotic surgery and the expert care at Orlando Health Neuroscience Institute, he's on a healthier track than ever.