View All Articles
Tiberious: The Pet Therapy Dog That Makes Everyone Smile
My daughter and I found Tiberious at the Orange County Humane Society. It was love at first sight. I've had Chow Chows all my life, but never one like Tiberious. He was so obedient, quick to learn, and very kind and loving towards everyone he met.
Tiberious consistently surprised me with how well he adapted to every situation. I took him to be evaluated for his Canine Good Citizenship certificate, and he passed with flying colors. The evaluator suggested going into pet therapy, referred me to Intermountain Therapy Animals (ITA) and the rest is history.
I'm so thankful that I was in the right place at the right time to adopt Tiberious and to have him evaluated by someone who recognized his potential. Tiberious has proved on countless occasions that he has the ability to make everyone happy as a Pet Therapy dog.
Every time I take out Tiberious' harness, he'll turn around in circles and wiggle all over the place. Since the hospital is the only time he wears his harness, he gets very excited to put it on. Tiberious loves seeing the children in the Behavioral Health Unit each week because they always lay on the floor and cuddle up close to him. On a few occasions, Tiberious and I have visited a ten-year-old patient who rarely speaks and usually keeps to himself. Although the patient never reacts to our presence, Tiberious still lays by his feet to keep him company. I like to share stories about Tiberious to the patient, hoping he may want to talk, but I never receive a reaction. Then one day, it finally happened! When Tiberious and I walked into the group room, the patient jumped up with his arms wide open and yelled, "Tiberious!" We were all so surprised. He patiently waited for Tiberious to approach him to touch him lightly on the head. Although the patient barely spoke following his initial reaction, he sat with a sweet grin on his face during the rest of our stay.
Tiberious had another experience with an elderly gentleman who didn't seem very happy. Upon sitting down next to him, the gentleman openly shared that he wasn't the biggest fan of Chows. Although I had asked if he would like us to move away, he motioned for us to stay. As patients came up to play with Tiberious, the gentleman seemed to look confused. He mentioned that he used to have a similar looking Chow when he was younger, but never really cared for it as his mother seemed to be more affectionate towards the Chow. Unfortunately, the dog had passed when he escaped through the open gate the gentleman accidentally left open one day. It took some time for his mother to forgive him, so he never really cared for the Chow.
It was after the gentleman told me this story that he admitted he may have been wrong about Chows. He could see that all Tiberious wanted to do was help people, and he had done just that with the gentleman! After 50 years of not favoring Chows, all he wanted to do was pet Tiberious. Of course, Tiberious was very happy to receive the attention. He rolled over with his belly up and tail wagging a mile a minute! The gentleman laughed so hard and said he had found a new best friend.
It's always rewarding to see patients come out of their shell and enjoy their time with Pet Therapy teams. It truly does bring out the best in people.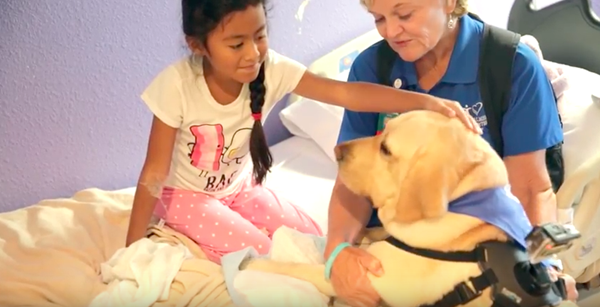 Are you interested in learning more about Orlando Health's Pet Therapy Program?
We are grateful for our pet therapy volunteers and their dogs. We currently have 60 pet therapy teams visiting patients at 6 different Orlando Health hospitals. If you are an Orlando Health patient or family member and would like a visit from one of our loving therapy dogs ask your nurse to submit a request to the Volunteer Services office.

Learn More Here