View All Articles
'Veep' Star Julia Louis-Dreyfus Diagnosed with Breast Cancer
An estimated 252,710 new cases of invasive breast cancer will be diagnosed this year, affecting thousands of women and their families.
Cancer doesn't discriminate by age, background or socioeconomic status — anyone can get this disease — and Julia Louis-Dreyfus, a famous actress and the star of the critically acclaimed HBO comedy "Veep," is just the most recent example.
On Sept. 28, the actress announced on Twitter and Instagram that she had been diagnosed with breast cancer.
"1 in 8 women get breast cancer. Today I'm the one," she wrote. "The good news is that I have the most glorious group of supportive and caring family and friends, and fantastic insurance through my union."
Dreyfus did not reveal the stage of her disease, but she did receive an outpouring of love and support from fellow stars and fans throughout the country, including Ellen Degeneres, Christina Applegate, her former "Seinfeld" co-star Jason Alexander, former Vice President Joe Biden and the Northwestern University men's basketball team (Dreyfus is an alum of the university).
Dreyfus, 56, was diagnosed on Sept. 18, the day after she accepted her record-breaking sixth consecutive Emmy for her role as Vice President Selina Meyer on "Veep."
Ironically, cancer research is one of the many issues Dreyfus has supported. She's worked with the Livestrong Foundation in the past to raise awareness for the cause.
Dreyfus is one of several stars who has been diagnosed with breast cancer in recent years. Olivia Newton-John, 68, was diagnosed with cancer for the second time this year. She was first diagnosed in 1992 at age 44. 90210 alum Shannon Doherty was diagnosed at age 44, and she has publicly shared her journey in an effort to educate and encourage other women facing the same diagnosis. Some stars, like Angelina Jolie, have even taken preventative measures. After Jolie tested positive for the BRCA1 gene and found out she was high risk for breast cancer, the actress had a double mastectomy and later removed her ovaries and Fallopian tubes. Several women in Jolie's family, including her mother, died from breast cancer, so taking these precautions may have very well saved her life.
Breast cancer is very treatable if it is caught early, so it's critical for women to get a regular mammogram. Women between the ages of 45 to 54 should get a mammogram every year, and women ages 40 to 44 can start breast cancer screening early if they choose. If you're high risk or have a family or genetic history, early screening is even more important.
Celebrities are just as human as the rest of us, but when they speak out about a health scare or diagnosis, it raises awareness for everyone. Julia Louis-Dreyfus publicly sharing her diagnosis is a reminder to all of us that breast cancer knows no bounds, and that early detection, regular mammograms and annual check-ups can make a big difference for many women.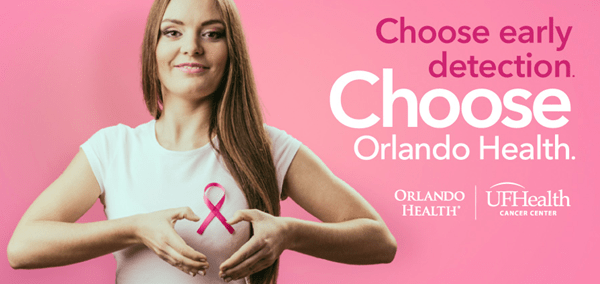 Reduce Your Risk of Breast Cancer
Breast cancer is the second most common type of cancer among women in the United States. However, with early diagnosis, breast cancer has a relative survival rate of better than 90 percent. Monthly self breast exams can help you be familiar with how your breasts normally look and feel.
Download a self-examination guide here