View All Articles
What Orlando Health is Doing to Minimize Resident Burnout
To say that being a surgical resident comes with a high amount of pressure and stress is certainly nothing new. Generations of doctors have had to work their way through a residency that involved long workdays and sleep deprivation. It's practically an established rite of passage for surgeons and physicians. Moreover, for the resident, it is an invaluable experience.
After all, the goal of any surgical resident is to one day be a practicing surgeon, which means taking on the responsibility and pressure of having patients' lives in his or her hands. Going through a highly demanding residency, conditions "surgeons in training" for the pressures of a career in the field.
At Orlando Health, one of our primary goals in the residency program is to provide that experience, while also providing support and resources so that they don't get burned out, and help them maintain the passion and enthusiasm that drove them to pursue a medical career from the start.
Addressing resident burnout is a relatively new concern for training hospitals. Looking back through several decades, the prevailing attitude was to push residents to "suck it up" and "be tough," without providing any formal support. Today, the attitude has shifted, and we at Orlando Health have developed new approaches to achieving a better work-life balance.
Some of our resources include:
Formal faculty and senior peer mentoring programs for all residents designed to provide support and guidance.
Quarterly resident wellness checks to specifically address the issues that lead to burnout.
A physician coach position staffed by a PhD-level psychologist who helps residents cope with the demands of their responsibilities.
Assessments for residents across all specializations, administered by the Graduate Medical Education Department, to identify and support departments most affected by burnout.
Group activities known to reduce stress and decrease burnout rates among residents, including attendance at local sporting events, team-building activities and social gatherings.
Formal lectures, presented annually, from an expert who discusses how to recognize the signs of fatigue and burnout.
Our mission statement at Orlando Health is "To improve the health and quality of life of the individuals and communities we serve." That means all our employees, including surgeons and physicians, must be among the most dedicated and competent professionals in the world.
That is the standard that we live up to every day. It's why we train our residents the right way, with a focus on making sure the enthusiasm and commitment they arrived with is not just maintained, but evolves and grows by the time they complete the program and take their first steps toward successful careers in medicine.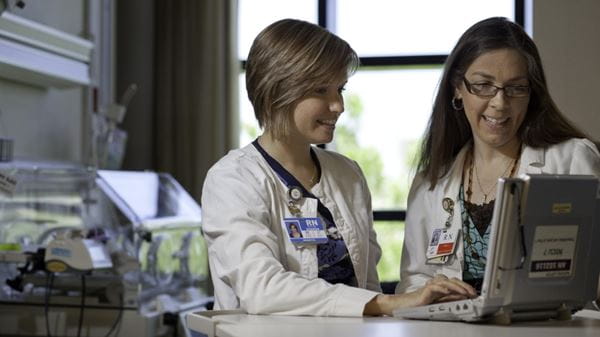 Are you interested in a career at Orlando Health?
Serving 1.8 million Central Florida residents, Orlando Health is one of Central Florida's largest employers. This is where you can find a career with a family of caregivers – each focused on helping our patients. No matter your role, you'll play a part in providing patient-focused care in a supportive, encouraging environment.

Learn More Here