View All Articles
Why Does My Stomach Get So Bloated?
Bloating. It's that uncomfortable, overly full, sometimes even painful feeling in your stomach that makes you want to take a nap until the sensation passes. Bloating even can make your stomach look swollen or feel hard to the touch. Although women often feel bloated for a few days or weeks before their period, anyone can have occasional bloating.
What makes your stomach feel like a balloon has expanded inside? Bloating usually happens when gas temporarily builds up in your stomach or intestines. When you're bloated, you may notice that you burp or pass gas frequently, and find that releasing that air brings you some relief. Bloating also occurs when your digestive system slows down and you don't have regular bowel movements.
Bad Eating Habits = Bloating
It's no surprise that bad eating habits can contribute to bloating. Overeating or eating too quickly can cause that stuffed feeling because your digestive system slows down, trying to process a large or fast intake of food. When you talk while eating, drink through a straw or chew gum, you swallow air that can go into your digestive system, causing bloating.
Processed foods, such as hotdogs and chips, also can create bloating. Many processed foods are high in sodium, which makes your body retain water and can cause your stomach to feel bloated. Sugary foods and snacks break down in your body and can make you gassy.
Even what you drink can upset your stomach. Carbonated beverages like beer and soda contain bubbles with carbon dioxide, a gas that releases into your stomach.
Good Eating Habits = Bloating Too
It's not just unhealthy foods that can cause bloating. Some healthy foods, such as broccoli or beans, can make people feel bloated. If you have a food allergy or intolerance, you might feel those symptoms after eating food containing wheat, lactose, fructose or eggs.
Journal Your Way to Finding the Culprit
If you get bloated often, say, more than once a month, it's worthwhile to figure out what triggers your symptoms. Try keeping a food journal for a few days and write down everything you eat and drink. Be sure you include the ingredients in your meals in case one of those is the actual problem. (The meat in the chicken parm may not be the culprit, but the wheat bread crumbs could be!)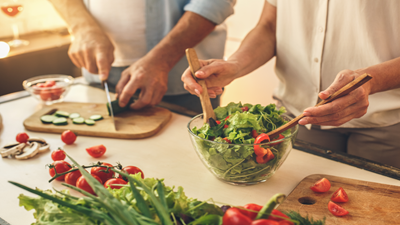 As you make that journal entry, note how you feel 30 minutes after you eat. Terrific? Overly full? Tired? Gassy? You may see some patterns that help you figure out if you have any food allergies or intolerances.
Get Relief from Bloating
The most obvious way to reduce bloating is to avoid any foods that are your gassy triggers. Some foods that are high in certain carbs (FODMAPs) — such as garlic, onions and other vegetables — aren't easy for the body to absorb and can bring on bloating. A low FODMAP diet is often recommended for anyone with irritable bowel syndrome (IBS) because those foods don't cause as much gas. Foods in a low FODMAP diet include:
Spinach
Squash and sweet potato
Fruits such as bananas, cantaloupe, oranges and grapes
Grains such as quinoa and rice
Lactose-free dairy products
When you eat, consume smaller meals and allow your body time to digest. Drink plenty of water to help your digestive system run smoothly. If high fiber foods make you bloated or constipated, staying hydrated can help soften bowel movements, making them easier to pass.
Activity also can calm that bloated feeling. Although exercise may not sound appealing when you feel bloated, mild physical activity can stimulate the digestive system. Gentle yoga movements that relax the abdomen can help relieve belly swelling, too.
To combat occasional gassiness, try over-the-counter antacids.
If these DIY remedies don't help, talk with your doctor. Although rare, chronic pain and lethargy could be symptoms of inflammation or other conditions.
A bloated belly is never fun, but the good news is that in most cases, the discomfort isn't long-term. Even better news: Once you do a little detective work to find your triggers, you can keep that uncomfortable, too-full feeling from ever returning.
Learn More About the Orlando Health National Training Center
The Orlando Health National Training Center, on the campus of Orlando Health South Lake Hospital, provides comprehensive wellness programs, events and training services to support our community and athletes in their achievement for health and performance excellence.
Learn more