View All Articles
Why It's Better to Take Opioids Short Term
According to the American Society of Addiction Medicine in 2015, 2 million people had a substance abuse disorder that involved prescription pain relievers such as opioids.
Despite the fact that the opioid epidemic is a growing public health crisis, there are instances where these drugs are critical to giving patients relief from pain — as long as they are prescribed in the appropriate doses.
Opioids are powerful drugs to treat pain but are highly addictive, even when taken for a short period — research has found that around 50% of patients who took opioids for at least 30 days were still using these medications three years later. In a study published in New England Journal of Medicine in 2017, they found that ER doctors who prescribed these drugs to patients more frequently were more likely to have patients on long-term opioid use afterward than physicians who didn't prescribe them as often. In light of all this, prescribing prescription pain medications can be tricky for doctors and for the patients taking them. How much is too much and is the patient getting the right amount of medication to properly deal with his or her pain?
As healthcare providers, our goal is to help patients, but some medications can do more harm if they are taken improperly or prescribed at a dosage or duration that may be too much. To help the medical community, the Centers for Disease Control and Prevention (CDC) and the Federal Drug Administration (FDA) have provided guidelines and resources to help patients and doctors.
The CDC has issued prescription guidelines for opioids to encourage more cautious prescribing and the FDA has developed an action plan that includes items like better labeling, additional warnings and safety information on opioid medications. Additionally, there is a resource page on its site for patients detailing what they should ask their doctor about opioids before they are prescribed these medications. Some of the questions include asking about the risks of these drugs, whether a prescription is necessary and what other treatments are available.
The CDC currently recommends a three-day prescribing limit for opioids in patients in acute pain and who don't have cancer or need these drugs for palliative end-of-life care. Research has indicated patients can develop an opioid dependence in as little as a few days. This means the first prescription a patient receives will be enough for a three-day supply. If additional medication is needed, he or she will have to go back to the doctor for further evaluation.
The CDC also recommends that doctors only consider prescribing these drugs if the benefits are greater than the risks of taking them, and that they should prescribe the lowest dosage for the shortest time possible. The reason for this is two-fold: the risk of overdose and addiction is far less likely if a patient is on these medications for a shorter period, and because these drugs actually are less effective the longer someone takes them.
If you continue to have pain after your initial prescription, it may be best for your doctor to prescribe something else. Over-the-counter medications like acetaminophen (Tylenol®), ibuprofen (Advil© or Motrin©), or naproxen sodium (Aleve®) may be safer for patients with short-term pain, while treatments like cognitive behavioral (talk) therapy, physical therapy, moderate exercise, topical pain relievers or less addictive prescription drugs like serotonin and norepinephrine reuptake inhibitors may be more better options for patients with chronic pain.
No one wants to be in pain, but the risk of taking opioids long term is too great for most patients. The key takeaway here is that opioids are safer when they are used for shorter periods and when doctors educate patients about the risks and closely monitor them for signs of potential dependence or addiction, especially in patients who have a prior history of addiction. Patients should monitor themselves closely for changes. Ask yourself if the dosage you're taking no longer works, if you've begun taking the medication for something other than pain or if taking the medication is beginning to affect how you function. If the answer is yes to any of these questions, it's time to talk to your doctor and figure out alternatives that can provide pain relief while reducing the risk of dependence.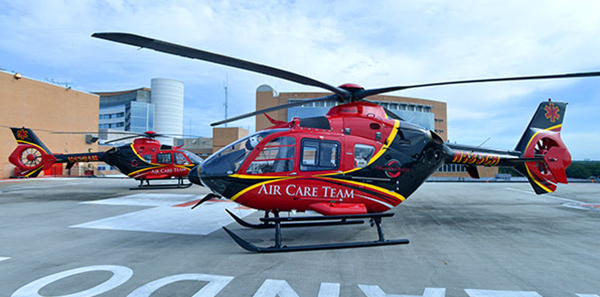 Are you interested in learning more about our Emergency and Trauma Care?
Emergencies can happen anytime, anywhere. Which is why all Orlando Health hospitals are equipped and staffed to handle any emergency situation — big or small. Our team of physicians are all board certified in emergency medicine, and are here for you, 24 hours a day, seven days a week. We are also proud to offer Central Florida's only Level One Trauma Center, located at Orlando Health Orlando Regional Medical Center.
Learn More Here