View All Articles
Why Women Need a GYN Exam—Every Year
You may not need a Pap test every year, but if you're a woman who is 21 or older, you should have a gynecological (pelvic) exam each year as part of your wellness maintenance. During this exam, your doctor can assess your health and screen you for diseases based on your age and risk factors.
If you typically see your doctor only when you're sick, this annual exam might be the first point of contact for detecting any abnormalities with your reproductive organs, or other areas of the body. Yearly visits help your physician detect issues, hopefully before they are advanced, and help you avoid serious complications.
Without an exam, a precancerous lesion that could otherwise be treated could go undetected and change to a more advanced lesion or even cancer. Undiagnosed sexually transmitted infections (STIs) can lead to serious pelvic and abdominal infections—even causing infertility if not treated.
Your GYN exam doesn't just check your reproductive organs, but your overall health as well. If you are developing high blood pressure or diabetes, this annual exam might detect this, so you have an early start on treating it.
But going to the GYN isn't just to treat potential illnesses. It's also a time to talk about how to maintain a healthy lifestyle and minimize health risks. If you have questions about contraception, planning for pregnancy or are interested in genetic screening to determine if you have an increased risk of cancer due to family history, you can talk with your doctor during the exam.
Other topics to discuss during an annual GYN exam may include:
Vaccinations (such as HPV and others)
Depression screening
Concerns about sex
Weight control
Issue with your menstrual period
Urinary incontinence
What to Expect During A GYN Exam?
Much of the annual exam will be familiar—your vital signs will be taken to get your blood pressure, heart rate and temperature. You'll get weight and height measurements to determine your body mass index. Your doctor will also examine your abdomen and groin area, checking for masses or enlarged lymph nodes. Most doctors will perform a breast exam and a pelvic exam. The pelvic exam consists of examining the external genital area as well as an internal exam of the vagina, cervix, uterus and ovaries.
How is a Pap Test Different from a GYN Exam?
A Pap test may be done during the GYN exam. A Pap test (also called a Pap smear or cervical cancer screening) is a specific test that looks in your cervix for abnormalities that could include inflammation, infection, precancerous and cancerous cells. During the exam, cells from the cervix are gently removed and are examined under a microscope to check for any problems.
How Often Do I need a Pap Test?
Although you should have a GYN exam every year, the American College of Obstetrics and Gynecology recommends the following schedule for Pap test:
Under the age of 21—no Pap test needed
Age 21-29: A Pap test every three years, as long as the tests remain negative for abnormalities
Age 30-65: A Pap test with HPV testing every three years, as long as both tests remain negative
Over the age of 65: no Pap test is needed
If you've had an abnormal Pap test, are positive for HPV, have certain medical conditions (HIV, transplant patient, taking certain medications) or have a history of cervical dysplasia or cancer, your doctor may make different recommendations for whether you need Pap tests or not, or their frequency.
With all the benefits of the GYN exam, make sure you schedule an annual appointment with your doctor, so you can take charge of your health.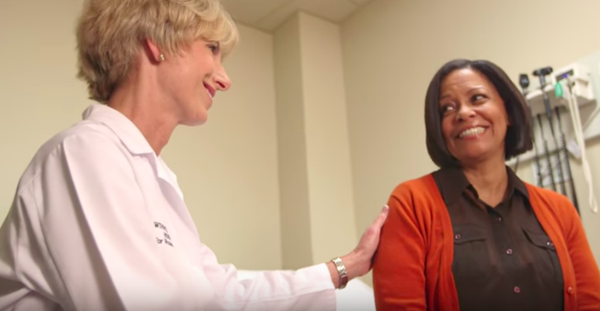 Are you interested in learning more about our network of women's health physicians?
At Winnie Palmer Hospital for Women & Babies, the physicians recognize that each woman has unique healthcare needs. Our team of highly skilled professionals — with advanced training and specialization in women's healthcare — is here to address your individual needs and concerns. From well-woman care to obstetrics to minimally invasive gynecologic surgery, we are here to provide the caring and expert care you deserve.
Learn more now