View All Articles
12 Spring-Cleaning Tips to Create a Safe Home for Baby
For expecting parents, preparing your home for the arrival of a new baby can feel overwhelming. Fortunately, springtime is not only the perfect season for cleaning the house, but also for making necessary safety changes to your living space. By following recommended guidelines, you'll be able to create a clean and updated environment that keeps your baby's safety in mind.
Ready to get started? Here are 12 tips for creating a safe environment for your baby during spring cleaning this year:
Ready Your New Baby's Sleeping Area
Cribs should always adhere to current safety standards. Crib safety is key for any new parent. The slats of your baby's crib should be no more than six inches apart. The mattress should be flat and firm. And there shouldn't be cutouts in the frame that your baby's head or extremities could slip through.

Check your crib for inconsistencies and damaged parts. First off, ensure that all parts of the crib are original and securely in place before using it. No gaps should exist between the mattress and sides of the crib. Also, look for rough areas or sharp edges on the crib where clothing could get caught.

Don't add any extra items into your baby's crib. Due to the risk of suffocation, parents should avoid bumper pads or extra bedding, such as blankets or pillows, in their baby's crib. Also avoid placing stuffed animals, baby toys or other small materials into a baby's sleeping space, as these are a choking hazard.

Purchase or borrow a cool mist humidifier. A humidifier is helpful to have in the room when your baby has nasal congestion. Make sure to keep it sanitized and use the "cool mist" style of humidifier or vaporizer. These products also are made to release hot air, which can cause burns.
Prepare a Designated Area for Diaper Cleanup
Set up your changing table with potential issues in mind. Ideally, every changing table should have a guardrail around all sides. This protects your baby from rolling off — a move that most babies master around six months old or earlier. The changing table also should be concave to keep your baby securely in place.

Create a changing "station," not just a table. New parents quickly realize that it's much easier to keep everything they need to change a diaper within arm's reach. This also prevents needing to step away from your baby during changes.

Research and purchase safe diaper products. Recent research has shown that some traditional baby-cleaning products are not as safe as consumers once thought. Baby powder products, for instance, are no longer recommended by the American Academy of Pediatrics (AAP) due to the risk of lung injury if inhaled. When in doubt, talk to your pediatrician about which baby products are best to use.
Take the Necessary Measures to Safeguard Your Home
Make sure that your baby's room has updated smoke alarms with new batteries. This is also a great time to test previously installed smoke alarms. Carbon monoxide detectors also can be placed in the home to detect this toxic gas with no taste, color or odor.

Use outlet covers in the rooms your baby will be in. Once your baby learns to roll, they're able to reach out a hand and touch an electrical outlet. Outlet covers are especially helpful once babies start crawling and walking.

Install cabinet locks on lower cabinets and bumpers on sharp corners. Simple, plastic baby-proof locks should be placed on cabinets that babies can reach, especially under the sink or wherever toxic soaps, cleaning products or medications are stored. Plastic bumpers also can prevent injuries from sharp corners like those on window sills.

Secure to the wall any furniture that can be tipped over. The rise in affordable, lightweight furniture over the last couple of decades has led to an increase in the number of children killed by toppling dressers, bookshelves and other items. To prevent injury, use brackets to secure furniture to the wall. Also, if there is a toy box in your baby's room, make sure its hinges are designed to hold the lid open so toddlers can't get stuck inside.

Limit newborns' exposure to germs. It's impossible to limit all exposure to germs, of course. Yet, do what you can to cut back on bacteria. Clean hard surfaces with a safe cleaning product. Wash all bottles, toys and pacifiers in hot water and soap. Lastly, wash all clothes prior to putting them on baby, preferably with a fragrance-free and/or sensitive-skin detergent.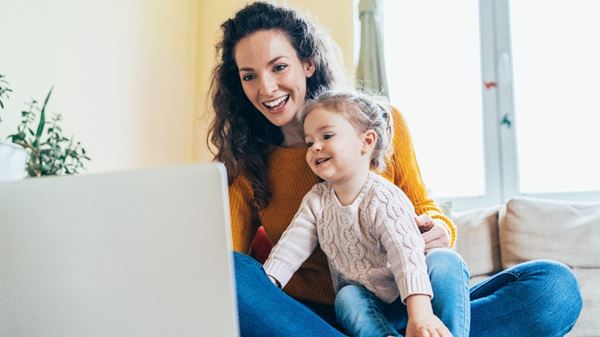 Are You Interested in Learning More?
Sign up for our e-newsletter for more tips and best practices from pediatricians.
Sign Up Here