View All Articles
A Day In The Life of a Corporate Resource Registered Nurse
Imagine not knowing where you'll be working each day until you call in that morning. It may be a different hospital location and a different floor from yesterday, and probably from tomorrow. You never know what each day will hold, and I love the adventure.
As a Corporate Resource Registered Nurse for Orlando Health, I work within the different hospital systems of Orlando Health, including South Seminole Hospital, Dr. P. Phillips Hospital and Orlando Regional Medical Center (ORMC). My job changes daily—I may work in orthopedics one day at ORMC or the Progressive Care Unit (PCU) at South Seminole Hospital. Instead of being in one area, I get to do something really different almost every day I work.
The one thing that has been a constant has been my interest in nursing. When my grandmother had pancreatic cancer, I loved the care and compassion the nurses gave her during her most vulnerable time. That was something I always wanted to do for others, and that inspired me to go to nursing school.
In nursing school, we're trained to be a diverse nurse and specialize after graduating. Nine years ago, when I graduated, I started working in oncology. After seven years, you get to a point where you feel you're doing the same thing, and I was ready for a change.
Now, as a corporate resource nurse, the majority of time, I'm doing something different every day. If I'm working in orthopedics, I can work on my skills for surgery patients, like dressing changes and learning to get people out of bed. The next day I may be working with cardiac patients, who have different needs.
Although my location, floor and general duties may vary, my main responsibilities are the same—make sure the physicians' instructions are carried out, that the patients' needs are taken care of and that the family needs are met.
I wake up at 5:00 am and call the Patient Care Coordinator (PCC) at 5:15 am to see where I'm needed. Once I get those orders, I drive to the hospital and get started at 6:45 am. We have a meeting for the incoming shift to find out what's going on, how patients are doing, who may be discharged and if there are any issues to be aware of.
All of the floors are very welcoming to the corporate resource nurses. They have the necessary papers, phone, and computer ready, and appreciate the additional help. Because I've worked in a variety of areas, I don't feel out of place on any floor—I feel the whole organization is my home. We're all there for the same purpose and need.
During the day, I monitor the patients, making sure they are getting better or that their well-being has not decreased, initiate the tasks that have been ordered for them by the physician and make sure the patient's needs and family's needs are taken care of.
I prepare those who are ready for discharge—organizing their home care and coordinating with social workers and physical therapists.
I do a head to toe assessment of them, talk with them about their plan of care, give morning meds, prepare those ready for discharge. I speak with the physician, patient and family, conveying any concerns they have to make sure the whole of the patient is taken care of. The end of the day comes about 6:45 pm, with a change of shift report, and I usually leave about 7:15 pm.
I love that at Orlando Health, we change the lives and the quality of lives of patients. I love the satisfaction of helping someone who may be scared by a sudden illness, and I help them feel more comfortable and that they can handle anything that comes their way.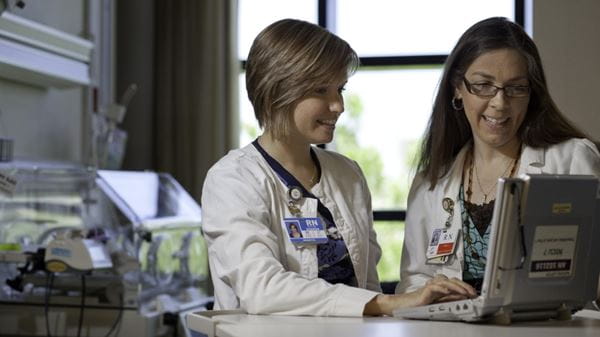 Are you interested in a career at Orlando Health?
Serving 1.8 million Central Florida residents, Orlando Health is one of Central Florida's largest employers. This is where you can find a career with a family of caregivers – each focused on helping our patients. No matter your role, you'll play a part in providing patient-focused care in a supportive, encouraging environment.

Learn More Here