View All Articles
Day in the Life of Medical Technologist—Monica Branom
Patients at Orlando Health may never meet Monica Branom, but she's still taking care of them.

As a senior medical technologist at Orlando Health's Dr. P. Phillips Hospital, Monica doesn't usually work directly with patients. She works in many areas of the hospital lab, which includes hematology, chemistry, urinalysis, immunology, pathology and the blood bank. When a specimen from a patient comes into the lab for analysis, Monica makes sure the process is done correctly, following quality control standards to ensure accurate results.

One of the best parts of her job, she says, is helping to diagnose the patient's illness. "What I love the most is being a major part of solving a puzzle for our patients," Monica says. "I can look at a slide and test result and can compare that with a patient's clinical symptoms and discover what's wrong with them. To be able to give a patient an answer is a huge thing."

That combination of using science and helping individuals is what drew Monica to the field of medical technology.


"I always wanted to be in the medical field," she says. In high school, she was at a crossroads trying to determine if she wanted to be a nurse, doctor or other medical professional. While completing her senior project, she discovered the field of medical technology. "It was science based but still had a huge impact on patient care," she says. "That sounded exactly like what I wanted. I was inspired by that."

To be sure this was the right move, Monica talked with several people in the field, and fell more in love with the career option. She attended UCF where she earned her Bachelor's degree in Medical Laboratory Sciences. The MLS program partners with Orlando Health where for clinical rotations giving Monica the opportunity to work in multiple OH hospital labs. She also worked as a laboratory assistant at ORMC in the microbiology department so after graduating, working at Orlando Health was a natural next step.

On a daily basis, Monica is responsible for maintaining instrumentation, which means making sure all of the automatic and computerized testing equipment is operating efficiently and that the results are quality results, meeting established national and corporate quality control standards. As a senior tech, Monica also helps with scheduling and ensuring the right results are being produced in a timely fashion.

"As a senior lab tech, I am responsible to make sure everything we do aligns not only with what we want to do at Orlando Health, but it aligns with the standards we're required to maintain through our national accreditation with the College of American Pathology," she adds. Orlando Health Laboratories go through a rigorous biennial inspection by CAP to obtain their accreditation which sets high standards for laboratory medicine quality. They also go through inspections by JACHO and the FDA.

The training and education required to ensure quality results is significant, Monica says. "We get a lot of training in school specifically for medical sciences, but there's also technical training and clinical rotations in hospitals," she says. Continuous education is also required to ensure medical technologists know current policies and practices.

If anyone has questions about specimen collections, Monica says she—and her fellow medical technologists—are happy to answer them. "We like to help and explain what we do. Everybody cares so much about each specimen we touch. It's not just a sample we're holding—it's someone's life," she says. "Even though we're in the background, we're invested in the care of our patients."

Patients may not see Monica during their hospital stay, but she's watching out for them just the same."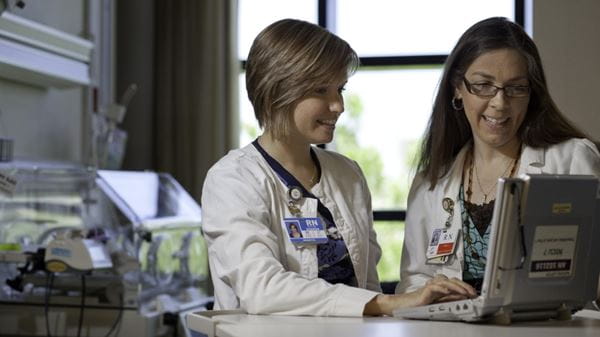 Are you interested in a career at Orlando Health?
Serving 1.8 million Central Florida residents, Orlando Health is one of Central Florida's largest employers. This is where you can find a career with a family of caregivers – each focused on helping our patients. No matter your role, you'll play a part in providing patient-focused care in a supportive, encouraging environment.

Learn More Here