View All Articles
Having Fun on Recreational Motor Vehicles Without Getting Hurt
It's all fun and games until someone gets hurt. This is said so often because it's true: Nothing can ruin a good time more quickly than an injury. And yet, when we're riding in recreational motor vehicles like golf carts, jet skis and all-terrain vehicles (ATVs), we are at higher risk of getting hurt.
By learning how to avoid some of the dangers of these activities, you can make your good times last longer.
Golf Cart Safety
A golf cart seems innocuous — it's just a slow-moving vehicle that takes you from one hole on a golf course to another. For many communities, golf carts have become an easy way to get around, even on the street. But in 2015, 18,000 Americans had golf-cart related injuries requiring emergency room treatment, according to the New York Times. One of the most common injuries occurs from falling out of the golf cart, which can result in serious, even fatal, head traumas.
Golf carts are built so that golfers and easily enter and exit them, but their lack of seat belts and an enclosure means they don't offer the same protection as cars. This can be dangerous for golf cart passengers, especially during sharp left turns when a cart is at maximum speed. The force of the turn can cause the passenger on the right side, who has little to brace against, to be ejected from the cart. Both adults and children are at risk — children especially since they may not be tall enough to brace their feet on the floor of the cart.
Nothing can ruin a good time more quickly than an injury.
Use a golf cart with a seat belt and wear one when driving or riding.

Slow down on turns.

If driving on the street, obey the rules of the road.

Don't drink alcohol while driving.

Use the emergency brake when the golf cart is stopped, especially on uneven terrain.
Jet Ski Safety
More than 25 percent of all registered marine accidents in the U.S. involve jet skis. Most jet ski accidents occur when the watercraft runs into a dock, another watercraft or a tree stump. With their ability to travel up to 60 r miles per hour, jet skis travel at serious speeds that can result in serious accidents. Added to that, jet skis don't have brakes and can take up to 300 feet to stop from top speed, which means more room and time are required to slow down safely. Typical injuries include fractures, lacerations, bruises, concussions and perineal injuries, which can occur from the jet of water that comes out of the back of the watercraft. The rider may strike the handles or be ejected from the jet ski. Because most riders are wearing swimsuits, there's not much gear to protect their heads or bodies from a collision.
Unlike most vehicles, when a jet ski engine is turned off, it still will travel in the same direction, but can't be steered. Jet skis also don't steer if you're slowing down, so to avoid an object, you must keep the engine on, maintain your speed and steer away from the object. It's no surprise that most jet ski injuries involve inexperienced drivers.
Ways to Be Safe on a Jet Ski
Wear a personal flotation device (i.e. a life jacket).

Attach the engine cutoff key to your wrist so if you fall off, the engine will not keep running.

All riders and drivers should attend a safe boater course that includes jet ski instruction.

Do not drink alcohol while operating or riding on a jet ski.

Maintain a safe distance from other vessels.
ATV Safety
ATVs can weigh up to 600 pounds, travel more than 65 miles per hour and are motorized, which makes them challenging to operate. In 2016, more than 100,000 Americans received emergency room treatment because of ATV-related injuries such as contusions, abrasions or fractures. Children are more likely to be injured in ATV accidents, and in 2015, percent of ATV injuries involved kids younger than age 16.
Fatalities also can occur while using ATVs. In 2016, 337 people died from ATV use. Historically, most ATV deaths occurred when ATVs were operated on paved streets, which is not their intended use.
Ways to be safe on an ATV
Never let children ride adult ATVs. Do not let children younger than 6 on an ATV. Those older than 6 but younger than 16 should only operate a youth model that is appropriate for their age.

All riders should wear a helmet and protective gear (i.e. eye protection, boots, gloves, long pants and a long-sleeved shirt).

All riders should have hands-on training.

Do not drive ATVs on paved roads.

Always fasten your seat belt.

Only allow as many riders as the vehicle is intended to have.
Gliding across the golf course, lake or terrain can be thrilling. And it can stay thrilling when you respect the dangers that golf carts, jet skis and ATVs can pose, and take steps to ensure your safety — while still having fun.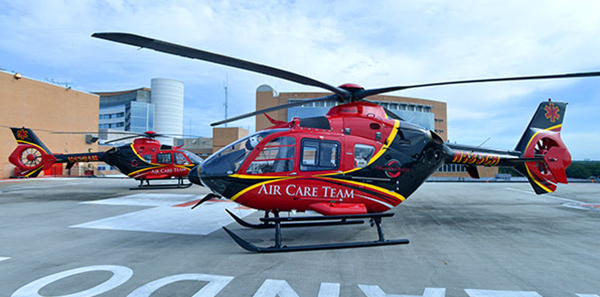 Are you interested in learning more about our Emergency and Trauma Care?
Emergencies can happen anytime, anywhere. Which is why all Orlando Health hospitals are equipped and staffed to handle any emergency situation — big or small. Our team of physicians are all board certified in emergency medicine, and are here for you, 24 hours a day, seven days a week. We are also proud to offer Central Florida's only Level One Trauma Center, located at Orlando Health Orlando Regional Medical Center.
Learn More Here